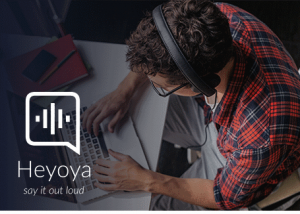 We are very excited to announce the launch of the first third party app in our app store – Heyoya!
Here to tell you all about this incredible app, is Nir Shilo, the CEO of Heyoya.
You've probably heard many times, that product reviews drives sales. Ever wondered why?
Think about your own shopping habits. If you are like me, then before you buy any new item, whether it be a computer or a pair of running shoes, you look for product reviews. Who has tried out the product? What do they think? Personally, I not only want to hear about why people love a product, but I also want to know what criticism they have, because no product is perfect.
Turns out that most people are like us. Research shows that people want to know what others think before they are willing to try a product themselves. And it's not just any review that gets people clicking on that buy now button, it's the ones they deem trustworthy and authentic.
We are excited to announce Heyoya, our revolutionary voice reviews platform, is now available in StoreYa's App Store. Now it's easier than ever to provide your customers with a platform for reviewing your products. Read More