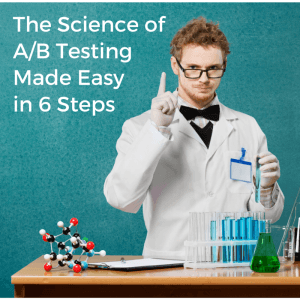 "A/B testing. That's way too scientific for me! I just want to grow my business by gaining more traffic." That is an actual quote from one of my friends who is working on growing his business.
What's worse is I know that he is not alone in his thinking. There are tons of people out there that don't bother with A/B testing (also known as split testing), because it sounds difficult.
Let me tell you something though – growing your traffic by 1000 visitors a day won't do anything for your business if you're not converting any of those visitors!
And how do you increase your conversion rate? By constantly testing your pages in order to improve it!
Think about it like this, if you have 1000 site visitors and you are converting at 1% you will have the same number of conversions as someone who gets 100 visitors a day, but is converting at 10%.
Now think about the potential for a site that has optimized its conversion rate AND is gaining 1000 visitors instead of 100 visitors. That site will be converting ten times as many people as the site with 1000 visitors and no optimization.
I think I have made my point that optimizing your site is super important. But of course the next question you will have for me is "how do I optimize my website?"
In this post you will learn the 6 steps to successful A/B tests! (And trust me, it's really not that bad!)
Read more →