For Facebook, text is out, and links are the new cool! What does that mean? Well, in a recent blog post, Facebook explained that although people tend to engage with text updates from their friends, they do not engage as much with text updates from brand pages. What is considered engaging content? Links, of course. As Facebook put it, "Our surveys show that on average people prefer links to high quality articles about current events, their favorite sports team or shared interests." So, in an attempt to provide it's users with quality content, Facebook updated its algorithm to give more weight to "news link posts" over regular text based posts.
What does this mean for you as an eCommerce store owner?
Use Links
Links are the new text. If you have something to say, then post a link to a page that says it. To clarify, when I say post a link, I don't mean to do something like this: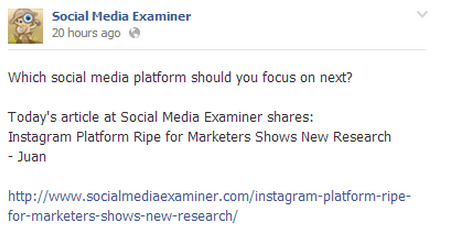 Here the link is just a part of the text of the post. There isn't even an image included.
Instead, take advantage of the built in link-share feature that Facebook provides.
To do so:
Paste your link in the text box before adding any other text.
Wait while Facebook extracts the meta information from the link.
Use the arrows to select which image from within the link you would like displayed.
You can also delete the link and add your own text once the data has been extracted, because the image itself acts as a link.
This way your posts will look like this: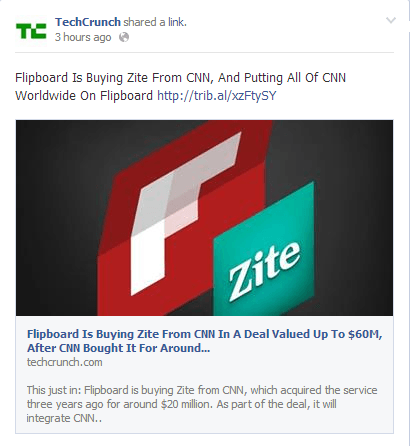 By doing this your post will contain a large image, the title of the page, and the meta description as well. This type of link post will also be boosted by Facebook, giving it more of a chance to be seen by your fans than a photo or text post.
So next time you post a new blog post or put out a new product, be sure to share the link on your Facebook page, rather than just writing a text based post.
Some Sizing Tips for Images in Links
The ideal size for an image so that it will be displayed fully in a link is 1200×627.
The smallest the image can be and still be displayed as a large picture is 560×292.
Do yourself a favor and follow these guidelines! If you don't, then your image will be displayed as a tiny thumbnail sized image, rather than the large image (pictured above) that takes up a nice chunk of the news feed.
Images Galore
As you have definitely come to realize, images must be a large part of your Facebook strategy. Whether it be for an advertisement or just a wall post, they are what Facebook wants you to be posting, and, let's face it, they are also what catches people's attention. So, where should you get all of these pictures from? Here are a few things you can try:
For general atmosphere pictures you can check out stock photo websites. There are some good free ones like Flickr.com or sxc.hu. (On Flickr just be sure that you search for royalty free images.) You might also want to look at a premium site like Istockphoto.com. On these sites you can search for all kinds of images to fit your needs.
For product images you should hire a photographer to take some pictures. Or, for a more affordable alternative, you can use rotaryview.com.
For photos with a more personal touch you can take pictures yourself of your workplace. This way you can have "natural" looking images that will enable your fans connect on a personal level with your brand.
You can also encourage your fans to take brand related photos by having photo competitions. By posting these photos, you can show your fans how much you value them.
Let us know what you think. Do you have any tips or personal experiences that you would like to share? Please share with us in the comments below.

Zack Fagan
Zack is a social media enthusiast who loves all things digital. He is the inbound marketing manager at StoreYa where he spends his days searching for the newest social marketing scoop. If you'd like to chat with him, feel free to connect with him on any social platform.
Comments
comments
Powered by Facebook Comments