In today's post, we are lucky to have one very successful online brand share their top blogger outreach tips. Why from them? Well, quite simply because they nail it! Meet Skinny & Company! Skinny & Company makes the world's only 100% raw, alkaline coconut oil. Skinny Coconut Oil is wild-harvested with no fillers or solvents added, straight from the jungles of Bến Tre, Vietnam. Perfect for cooking and topical use, Skinny's honest and pure product line is healthy for the whole family. Shop the entire product line at www.skinnyandcompany.com.
Blogger outreach has become the pinnacle of business marketing success. A blogger's eye-catching photography and spunky writing can pull in potential customers faster than standard marketing approaches alone. Why is that? Since its introduction in the mid to late 1990s, blogging has given experimental chefs, passionate beauty gurus, and globe trotting travel nuts a platform to divulge personal insights and opinions that catch major attention.
In fact, according to a study by BlogHer Network on women and social media, 81% of the U.S. population trusts information from blogs over that from Facebook, Twitter, and Pinterest. In addition, 61% of blog readers end up making a purchase based on a blogger's recommendation, proving that teaming up with these influencers is a profitable move.
In our company's experience, the Skinny online presence has grown exponentially since 10 months ago, gaining more than 15,000 followers across accounts. Spreading the word by connecting with bloggers throughout the continent has contributed the most to our speedy, social media growth spurt. In this post, we will discuss the stages to making valuable connections with social influencers and the results that will propel your brand to becoming front-page news.
5 Stages of Blogger Outreach
Stage I: Discovery
The first step in the process of finding the ideal trendsetter to highlight your company is understanding the audience you're meaning to reach. Are your potential customers hankering for the tastiest recipes? Search food bloggers. Are they frequenting makeup retailers and always looking for the next big thing in cosmetics? Connect with beauty bloggers. Put yourself in the shoes of your potential customers. Where do they go on the World Wide Web?
Our social media managers at Skinny scout out blogging superstars by using descriptive keywords, targeting offshoots of interests like paleo cooking or natural beauty. The more specific the search, the better the match. Filtering search results to show bloggers most active within the past week is beneficial for finding those who maintain steady content creation practices. We've also found that setting approximate goals for number of bloggers contacted per month increases replies received. On average, only about 15% reply back, so reach out regularly.
Recommended: 5 Amazing Outreach Templates That Get Results From Influencers 
Stage II: Compatibility
People like to engage with bloggers whose online presence represents an outgoing, accepting, and interested personality. When looking for affiliation within the blogosphere, you must first identify what bloggers mesh with your company and its message. At Skinny & Company, we identify most with bloggers who put the use of natural products as a high priority. We have specific email templates for certain types of blogs, with set information about uses pertaining to their specialty.
In addition, we explain what makes our products different than any other competing products on the market. Skinny has a special alkalinity component we use as our strongest selling point, immediately drawing attention from potential collaborators. Compose a list of your product's most distinctive qualities. Narrow your selection to the three most unique and interesting components for your pitch.
Write your outreach email to be concise and convincing. Our CEO, Matt Geddie, explains, "We treat our digital strategic marketing as a systemized approach, just like we would for our wholesale partners. We look for the most compatible bloggers to relay our product information to the Skinny family." A blogger who wholeheartedly believes in the value of the product line and loves the quality is our most valuable asset. This often fosters an ongoing relationship that can lead to unprompted promotion later down the road.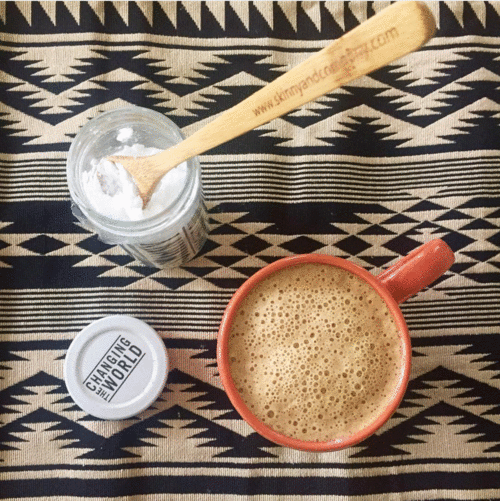 We are visual beings
Stage III: Collaboration
We offer a full-size product for promotion trade to our blogger affiliates. Our content creation approach when it comes to collaborating with bloggers is quite hands-off. Since thorough research has been done to confirm compatibility between brands, we trust that a blogger will create something worthy of their reader's attention to attract new customers to Skinny.
Some bloggers prefer performing their own research on our product and coconut oil benefits. We encourage correspondence regarding any questions or further explanations. Strong opinions and persuasive posts seem to sway readers the most.Remember to explain the multiple uses for your product, especially if some are unconventional and unheard of (we have a lot of those)!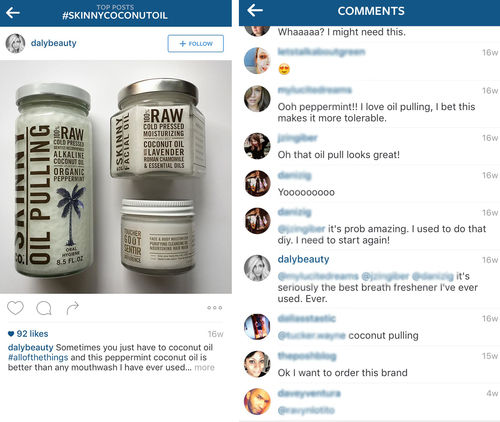 Don't forget to take a look at the conversations
Stage IV: Front and Center
It's come to the point that your collaborator has made an honest assessment of your brand's product. Their post is live. Flex your social media muscles and repost to Facebook, Twitter, Pinterest- you name it. While this may seem obvious, this crucial step is important to point out. Reposts not only bring awareness to your brand, but the bloggers who promoted it, also. It's a "you scratch their back, they scratch yours" situation. To keep track of incoming traffic to Skinny's website, we use Google Analytics, a fantastic stats tracker. It will spell out specifically what blog URL gave lead to the reader's visit to our site. We'll also tap information from our Shopify traffic reports to see if there has been any spike in sales from blog features.
Stage V: Keep An Eye Out
We can't stress this enough! Stay on top of the newest technology trends. Sweep the app store for the latest and greatest social media networks. Bloggers of all kinds are popping up on different platforms and growing a following has never been more interactive. Add some tech blogs to your morning reading list and don't forget to snag your signature username before someone else does!
Skinny has grown exponentially since our implementation of blogger outreach. The power of the citizen journalist is something to be admired and harnessed. Now that you've learned the ins and outs, begin to make contact and gather some new friends. Remember to focus on compatibility between the blogger, their audience, and your brand. Strive to keep people talking. The promotion possibilities are truly endless.

Monica Sallay
Monica Sallay is a freelance graphic designer and writer from Indianapolis, Indiana. She works as an in-house creative for Skinny & Company, producer of the world's only alkaline coconut oil.
Comments
comments
Powered by Facebook Comments