What makes a good ecommerce podcast. Useful info, interesting facts, stories and real life examples. To help you save time I have scrolled down through dozens of podcasts and gathered the cream of the crop that will give you daily motivation wherever you are, along with useful content and advice from industry experts.
The following list features some of the best podcasts that have been all rated under at least 4 stars on iTunes and focus on small to medium size businesses. Also all of the founders are people with real life experiences and passionate self made entrepreneurs.
1. Ecommercefuel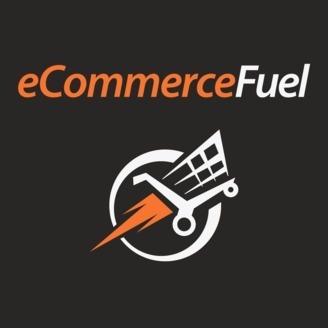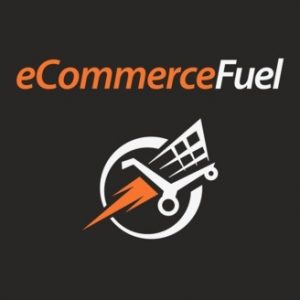 Andrew Youderian, once an investment banker in a corporate America, has turned the cards around and started his entrepreneurial business, which has generated him 7Million in revenue from developing and selling numerous ecommerce stores. As a founder of Ecommercefuel he is super energetic and heartfelt entrepriser with a years of experience up his sleeve. He gathers the best practices out there and presents it in the most interactive way, that will definitely get your curiosity hooked.
My favourite episode: Success in a Deep Niche with Eric Bandholz
Follow Him @eCommerceFuel on Twitter and subscribe on EcommerceFuelPodcast
2. FizzleShow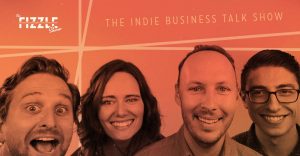 "Never laughed so hard while being totally enlightened!" is a frequent response to this podcast.
Fizzle Show is a unique business talk show for creatives and Indie entrepreneurs that conduct meaningful conversations and run weekly video trainings. This energising bunch always have exciting content backed up by hands on experience from their founders Corbett Barr and Chase Reeves. They focus on essentials such as driving traffic, growing mailing lists, better online content. All with a good portion of humor and practical business advice. I personally love their blog – The Sparkline.
My favourite episode: "Back to Mother-Eefing Square One" – Rebuilding Freelance Business from Scratch.
Follow them @Fizzle on Twitter and Subscribe to FizzlePodcastShow
3. Mixergy


One of the most downloaded Podcasts on the web that features a good mix of experienced mentors and talks with some of the best minds in the Entrepreneurial world today. With over 1000 interviews under the belt, Andrew Warner- the founder of Mixergy, has made a great buzz around his podcast with thousands of subscribed listeners. You'll get the latest scoops from entrepreneurs such as Andrew Mason from Groupon and Neil Patel from Quick Sprout. So, stay tuned on this one if you plan to be updated on all the success tricks and strategies out there.
My favourite episode: Techniques for Rapid Growth
Follow them @AndrewWarner&Team on Twitter and Subscribe to MixergyPodcast
4. EoFire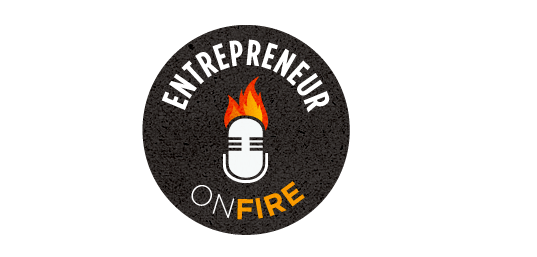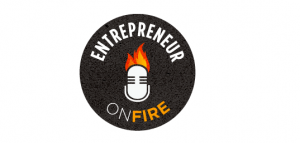 As you might guess from the name this is one fiery podcast. In fact it is one of the top ranked business podcasts, having won the Best of iTunes for a reason. It's founder Jon Lee Dumas runs 7 days a week interviews with most inspiring entrepreneurs and has his own unique approach. He breaks it down to talking about the guests failures as a starting point, followed by their Eureka moment and then he finishes it off with six hasty questions to get to the most interesting bits.
Either Way, you will get your daily fix of motivation with this FireNation Community.
My favourite episode: A Design Tool Content Marketers Can't Live Without
Follow him @JohnLeeDumas on Twitter and Subscribe to EoFirePodcast
5. My wife quit her job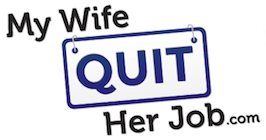 This podcast is run by Steve Chou who has a very inspiring personal story of how he started his first ecommerce store in order for his wife to quite her job, hence the title of the podcast. His BumblebeeLinens business has essentially replaced a 100K salary and has become a source of inspiration and the starting point for today's weekly podcasts along with webinars and consultations. With a first hand experience of running an eStore he has some great pieces of advice for those into the idea of "Bootstrapping" and looking to start from scratch.
My favourite episode: How to Transition from Amazon to Your Own eCommerce Store with Kurt Elster
Follow him @MyWifeQuit on Twitter and Subscribe to MyWifeQuitHerJob
6. Smart Passive Income



The smart Passive Income is a fun and unique podcast run by Pat Flynn who shares his secrets on blogging, email marketing and building an active online community. From his 45 minute interviews with successful entrepreneurs he will definitely leave with some great tactics and useful knowledge on e commerce arena. He use some playful and unique chatter making it fun to listen to. So, not only it provides content but also projects positive vibes to start the day with.
My favourite episode: One Day Business Breakthrough
Follow him @PattFlynn on Twitter and Subscribe to SmartPassiveIncomePodcast
7. The Tropical MBA



TropicalMBA Podcast is perfect destination if you're looking into bootstrapping a location independent business with a global mindset. These two upbeat hosts Dan Andrews and Ian Schoen give a downright fascinating show with their talks about internalization, personal freedom and artisanal entrepreneurship. If you are in Lifestyle Industry you will greatly appreciate their thought provoking and informative seminars where they focus on unconventional ways to get a business off the ground without having to be tied to a particular site. They focus on networking, team building culture and permanent travel.
My favourite episode: How to Embrace Changing Priorities
Follow them @DanAndrews on Twitter and Subscribe to TropicalMBAPodcast
8. Build my online store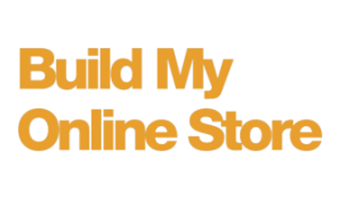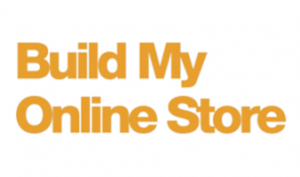 If you only have half hour window each week, this is an essential podcast for you to get acquainted with. You're sure to find a bundle of ideas for your niche e-store from his interviews. Terry Lin speaks to thousands of store owners around US and abroad, all with 6 to 7 figures earnings and unique success stories. He personally made a fortune by selling men's leather wallets online and can give tips from the basic marketing plan to fool proof advertising methods. It is by far one of the best education hubs on the web with over 40,000 downloads that focuses entirely on e-commerce.
My favourite episode: The Online CheckList for Setting up an Online store.
Follow him @itsmeterrylin on Twitter and Subscribe to BuildMyOnlineStorePodcast
9. Duct Tape Marketing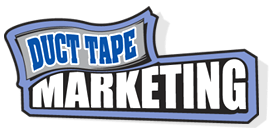 This cheery bunch of marketing experts have significant expertise in Digital Marketing, consulting owners of small to medium size businesses for years. John Jantsch is a recognised speaker and the blog has been recognised by Forbes as one of the best on ITunes. Their long standing industry background produces some interesting topics, such as setting an online marketing strategy that enhances an offline strategy and an outside of the box tactics for business referrals.
My favourite episode: Creating Audio Authority One Interview At a Time
Follow them @JohnJantsch on Twitter and Subscribe to DuctTapeMarketingPodcast
10. E-Commerce Influence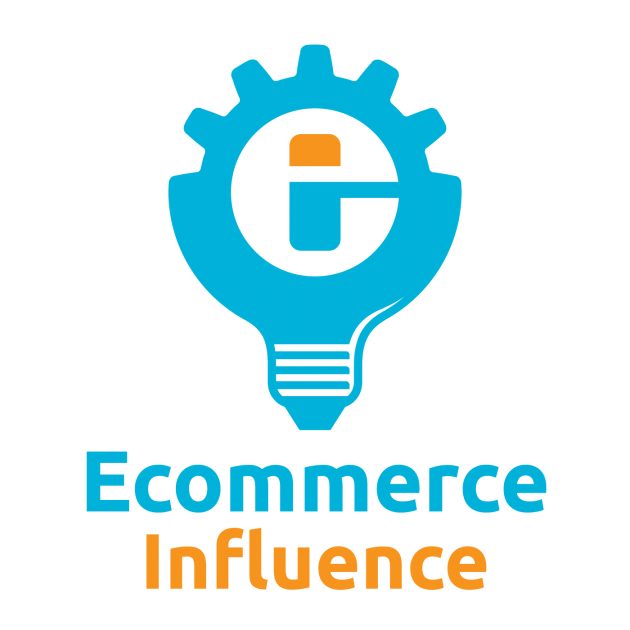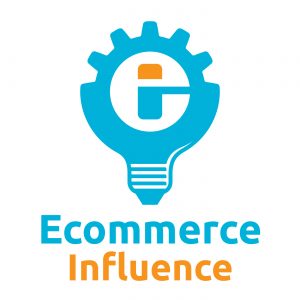 Having helped scale a company from $0-$11Million while still in College via e-mail marketing, Austin Brawner has caught on the entrepreneurial path in his 20s and continued to master his skills until Ecommerce Influence has been created. Together with two other Online Marketing Ninjas Lisa Oberst and Ian Maier he runs his podcast which focuses on practical tools for increasing conversion rates for ecommerce websites. If you're looking to get into some specifics such as referral programs and abandoned shopping carts this is the place for you. The show has a good conversational flow and easy to listen to.
Our favourite episode: How $100Million Dollar Companies are Born
Follow them @AustinBrawner on Twitter and Subscribe to ECommerceInfluencePodcast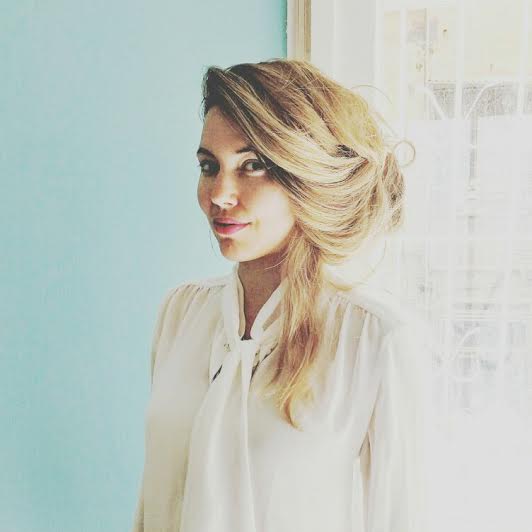 Anna Kachur
Anna Kachur is a marketing enthusiast and the inbound marketing manager at StoreYa. She spends her days searching for the newest social marketing scoop and creating amazingly awesome content. When she's not in front of the computer she loves hiking in the outdoors, exploring new places and meeting new people.
Comments
comments
Powered by Facebook Comments