At StoreYa, we know just how important an audit of an online store can be. Why? Because eCommerce store feedback points to elements you can improve, which ultimately helps you make more sales. We have always provided our merchants with manual audits, as we understand the huge need for online sellers to better understand what they need to do in order to improve their store in terms of shopping experience, marketing, site trustworthiness and tech issues.
It was after our post on The Online Store Feedback You've Been Waiting For, that we realized we needed a smarter way to get even more eCommerce sellers feedback in order for them to quickly and efficiently optimize their site for more sales. Which is where the idea of Benchmark Hero was born – a free app that allows us, for the first time, to automate the feedback process.
Following hugely successful beta testing, which yielded great feedback from our merchants who reported that they will use at least three recommendations from the generated report, we have just launched the live app to all our merchants – making us the first and only app on Shopify that provides site audits by comparing your online store to other successful (7/8 figures) stores.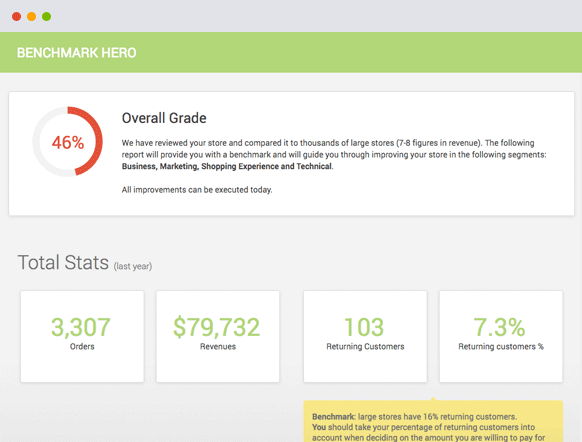 So how does our free automated store audit app work?
Benchmark Hero does a complete and detailed audit of your online store and provides valuable insights and actionable points through its report, showing you why your store isn't meeting your traffic or conversion goals.
100% free, it will enable you to compare your eCommerce store to thousands of large online stores and pinpoint what you can easily do to improve your store today!
Benchmark Hero works in three steps:
Step 1: Auditing Your Site
First, our app will audit your online store, ranking it on four segments: marketing, shopping experience, trustworthiness and technical performance.
Step 2: Benchmarking
Next, our automated store feedback app will compare and rank your site's stats against leading 7- and 8-figure eCommerce stores.
Step 3: Action Items
Lastly, Benchmark Hero will guide you through each item and show you the immediate action you can take to instantly improve your online store and ranking.  
During this automated audit process, our system will help you review and improve your customer value, recurring customer percentage and site speed, while showing you how customers see your site and how Google scans it.
Let's take a closer look at each of the segments the app provides feedback and actionable items on.
Benchmark Hero eCommerce Business Segments
Online Store Marketing Feedback
Benchmark Hero will audit and review your Facebook, AdWords, Google Remarketing, and Google Shopping ads as well as your Google Analytics, and then provide you with the actions you can take to improve your marketing and therefore increase sales.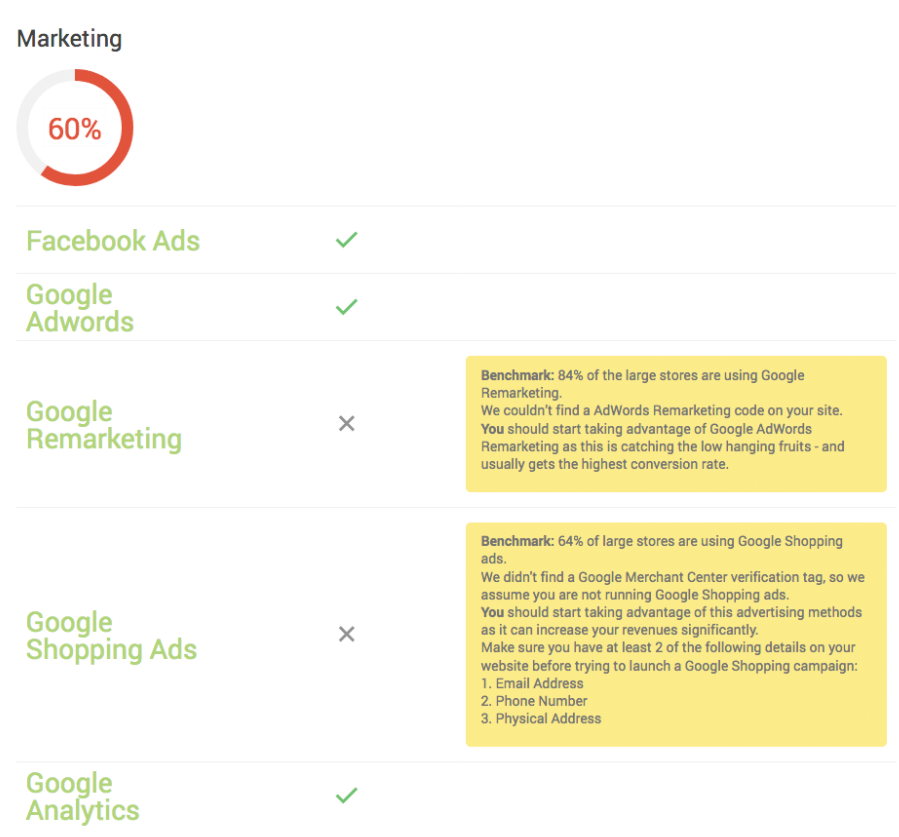 Online Store Shopping Experience Feedback
The next segment our site audit app provides is your store's overall shopping experience for customers. This includes key points such as product description length, number of available products for sale, your sales and promotions, and customer service availability.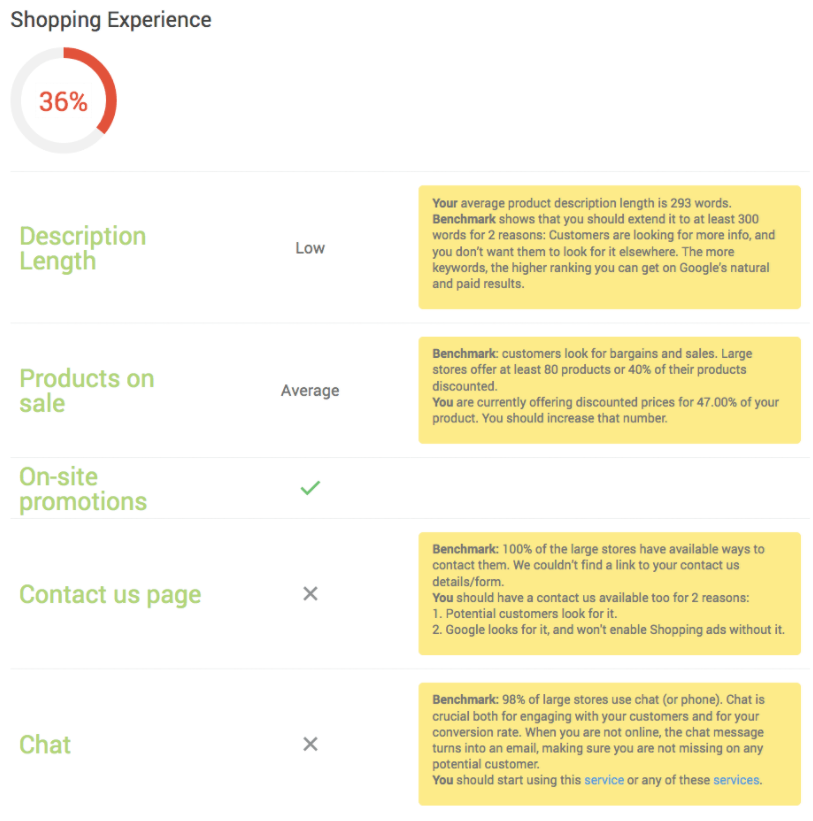 Online Store Trustworthiness Feedback
Next, you will get action items on how you can improve the overall trustworthiness of your site, which includes availability and accuracy of information such as your shipping and return policies, what trust badges you are using, and the status of your product reviews.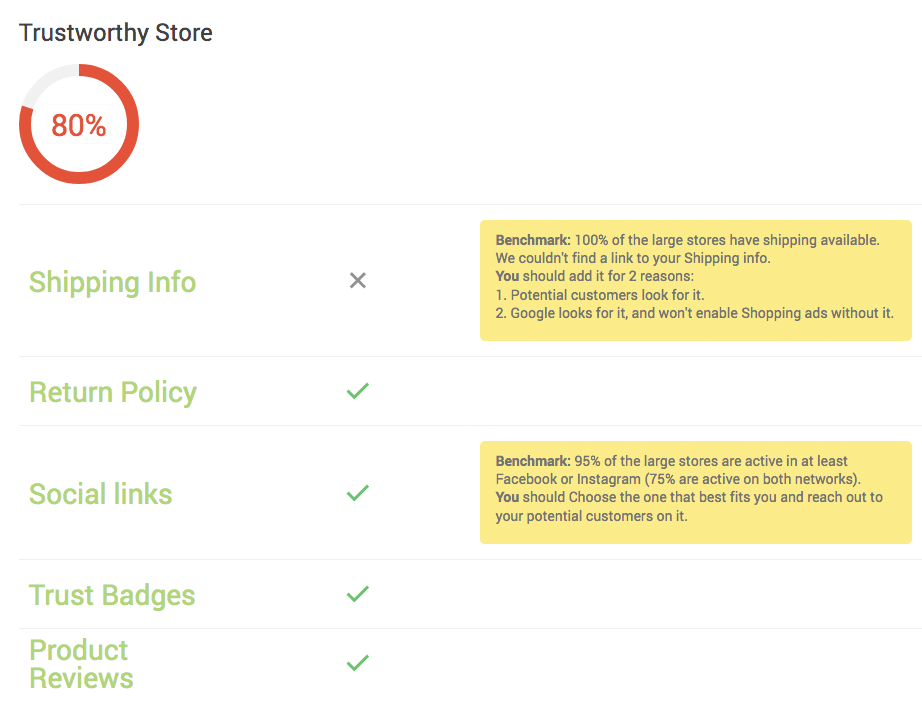 Online Store Technical Performance Feedback
Lastly, you will get a report on how well your online store compares to larger eCommerce businesses in terms of overall technical performance. This will include an audit, ranking and actionable suggestions for your site's desktop and mobile upload and image optimization.
—
And that's a wrap! Our new free, effective and easy-to-use app is waiting to help you improve traffic and sales.
If you are using Shopify, click the following link: https://apps.shopify.com/benchmark-hero
Using a different platform? Click this link: https://www.storeya.com/public/benchmark-hero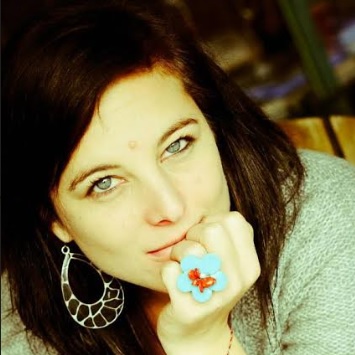 Nicole Blanckenberg
Nicole is a content writer at StoreYa with over sixteen years experience and flair for storytelling. She runs on a healthy dose of caffeine and enthusiasm. When she's not researching the next content trend or creating informative small business content, she's an avid beachgoer, coffee shop junkie and hangs out on LinkedIn.
Comments
comments
Powered by Facebook Comments