So you have asked your Facebook friends to get you some likes, and now you are ready for the real deal – Facebook sponsored ads!
This post will guide you through Facebook sponsored ads step by step till launch – regardless of the amount of money you can now allocate for such a test.
In our next post, we will provide some advanced tips taken from a real case study that will be revealed.
1. Log in to Facebook.com.
2. Go to http://www.facebook.com/advertising/
3. Click "Create Ad" (green button at the top right hand side).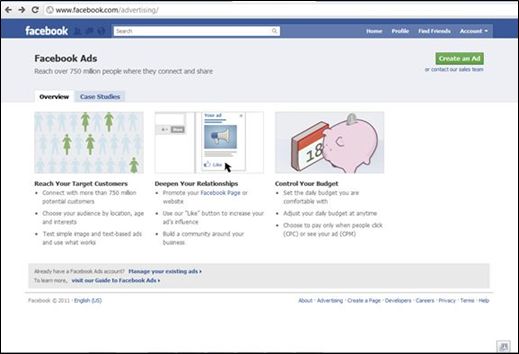 Design your ad
A. Choose your Facebook destination – the fan page that has your Facebook store's tab.
B. Choose "See advanced options" so you will be able to pay per click and not per impressions (exposure) which is more suitable for brand awareness. (Promote page posts is meant for advertising a specific post you have shared as a status on your wall).
C. Choose create a new ad about ___
D. Write a Headline – up to 25 characters.
E. Write the ad's text – up to 90 characters calling the users to make an action (like: try for free; but now etc.).
Note: Facebook guidelines only allow one "!" in an ad and forbid extensive capital letters (i.e. only the word at the beginning of the sentence can have a capital letter).
F. Landing viewer – choose the Destination tab within your Facebook business page – in our case your Facebook Store.
G. Image – upload a file that is filed locally on your computer.
Tip: the image is your best way to increase the ad's CTR (Click Through Rate) – the percentage of users clicking on your ad from the number of time it was displayed. The CTR will have significant effect on the price you will have to pay per click. Try to use appealing images. (In our upcoming chapter of advanced Facebook ads, we will share more ideas on how to choose such images and even on how to create them with no design background).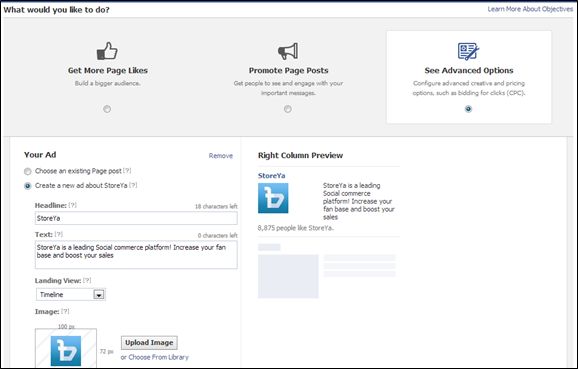 3. Choose your audience –
A. Choose location
B. Choose Age (tick the check box if you wish to target only exact range of ages, or leave it empty, if you don't. leave it empty might get you cheaper clicks that origin in traffic slightly outside the required range of ages).
C. Choose Gender ("Sex").
D. Choose like and interests of the users you wish to present your ad to.
E. State the connection on Facebook you wish to have with the users you exposed your ad to –
– Anyone;
– Only people who are not already fans of your page;
– Only people who are fans of your page;
– Only people who are connected to a page, event or application you have on Facebook (these option will be enabled if you choose "Advanced connection targeting").
– Only friends of fans of your page – this is actually a very cool option as such users are more likely to "Like" you when they see that their friends already like you.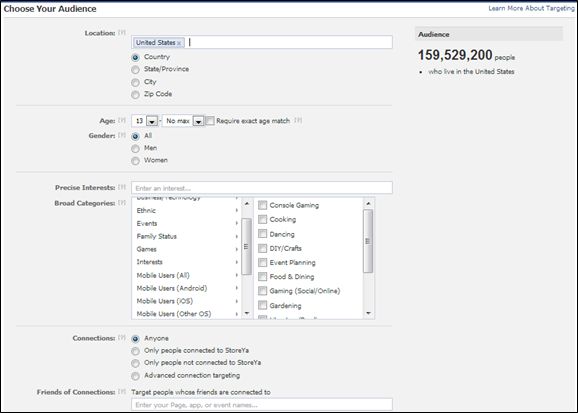 F. Target only people that celebrate their birthday on the very same day your ad runs.
G. Target people according to the sexual orientation and/ or according to their marital status.
H. Target people according to their language
I. Target people according to their educational background and/ or their work place.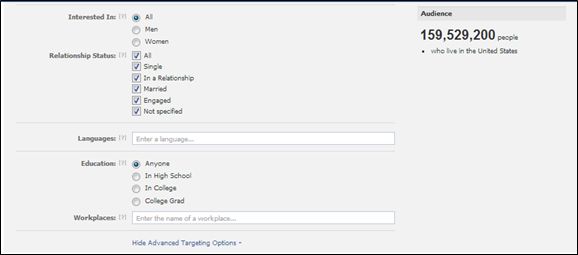 4.    Set your campaign, schedule it and cap its bid and budget –
A. Assign your ad to an existing campaign or click on "create a new campaign" in order to name a new campaign and quote its budget (per day or per month).
B. If you wish to launch or stop the campaign in a specific day, choose the 'set a start and end date' option.
C. Choose your payment method –
– "Your bid will be optimized to get more likes on your Page" – this would charge your according to:
CPM – Cost Per Mille (cost per 1,000 impressions your ad will be displayed); more suitable for brand awareness (as appose to performance base campaigns).
– Your bid will be optimized to get more likes on your Page" – this would charge your according to:
CPC – Pay Per Click
Note: CPM will ensure you get the impressions, but will not ensure you get any clicks. CPC will only charge you for clicks, but if you ad is not attractive enough (in terms of CTR, or the bids you are willing to pay for it) – you may not get any impressions and therefore clicks. The bottom line is that CPC is safer for you, but you will need to make sure your ad is appealing enough for Facebook to run it.
D. Set the max bid you will be willing to pay (per 1 click if you chose CPC or per 1,000 impressions if you chose CPM).
E. Review you ad – verify that you are happy with what you are going to pay for.
F. Place your order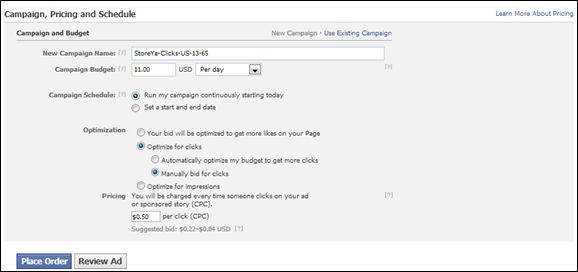 5.    Create more ads to allow yourself picking the best performing ad at the end.
6.    Wait for Facebook to review you ads and approve them.
7.    Optimize your ads – get back to http://www.facebook.com/advertising on a daily basis and check which ads get the most connections for you ("Likes") for the most little money, and which ads should be paused or even deleted.
Note: the ads will perform better over time, and will perform the best if you create more ads every 4-7 days. More about this in our Advanced Facebook Ads post.
So what are you waiting for!? Go get those likes & make new customers!!
You know your competitors are already doing so.
Next post: advanced tips and recommendations for Facebook advertisement

Eyal Reich - StoreYa, COO
Eyal is the co-founder of StoreYa and a leader in social commerce. He has extensive experience in online marketing and project management. He is passionate about building amazing products that will grow your business!
Comments
comments
Powered by Facebook Comments