Let's start with the bottom line and then explore the updates and opportunities –
YES – your Facebook store powered by StoreYa is supporting the new change.
In fact, your store and its tab will now get bigger and clearer.
Your store width will increase from 520px to 810px, and its tab will increase to 111px 74px. Here are a couple of examples of how your store can be displayed using the new Timeline + our recently launched layouts: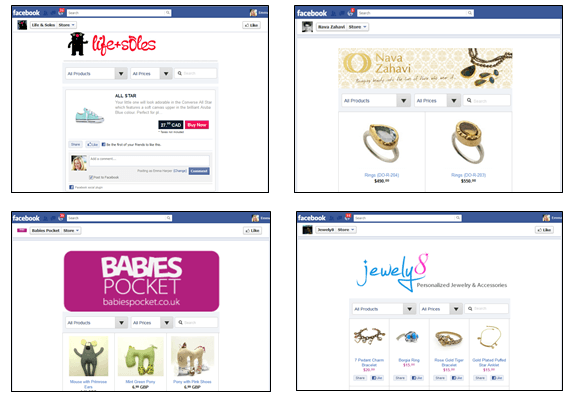 And here is how your store tab would look like:

Now let's discuss the Timeline itself and see how you can use its new features in favor of your Facebook store:
1. 5 Top Images – Out; One Large Cover Image – In
The Timeline cover displays a giant 851 x 315 pixel banner across the top of your Page. According to Facebook's Product Director of Ads Gokul Rajaram its "goal is to symbolize what an organization is all about".
Covers may not display calls to action or references to Facebook features such as "Like this Page", purchase or pricing info such as "40% off" or "Download at our website", or contact information such as web address. However it's hard to see how Facebook will force this guideline.
 2. Info: Out; About Section – In
The About section can provide your users with your description, address and contact details. You can also enable users to unfold a map by clicking on the About link.
 3. Default Tab – Out; Swap & Pin – In
Default tab is out and is not coming back.
What you can (and should do) is swap your store tab to a visible position (See how)
and 'Pin to Top' relevant posts/images that would direct your fans to your Facebook store (see how). See an example of a pinned post: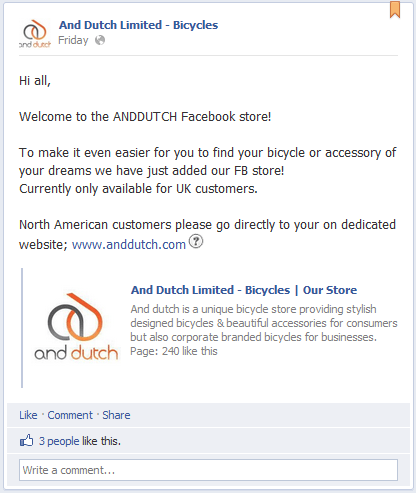 4. Customer Support: Wall – Out; Direct Messages – In
You can now correspond with users privately and not through your wall. This allows for a more pleasant consumer interaction. Note, you can only respond to users that have already contacted you.
 5. Status – Out; Milestones – In
In addition to posting a status, you can select to publish special Milestone stories stating big accomplishments like acquisitions or hitting a notable number of fans. These updates are likely favored by the EdgeRank news feed visibility algorithm, and may receive more impressions in the news feed and more prominence on Timeline than standard posts. Milestones appear full-width on your Page with a special flag icon on top.
Note, early adaptors are reporting some bugs that would probably be fixed by Facebook till March 30th which was set to be the date for pages timeline to become mandatory. We recommend that you take your time till then to make sure that all the features that you are going to used are working well.
Stay tuned for more templates that will take full advantage of the new 810px width!

Eyal Reich - StoreYa, COO
Eyal is the co-founder of StoreYa and a leader in social commerce. He has extensive experience in online marketing and project management. He is passionate about building amazing products that will grow your business!
Comments
comments
Powered by Facebook Comments