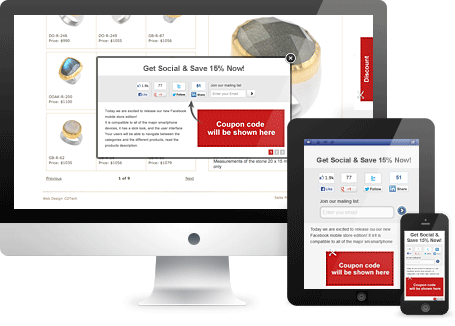 We're excited to announce the launch of a new marketing tool called the Coupon Pop!
StoreYa's Coupon Pop Plugin boosts your website conversion rate and increases your fan base and email lists by popping up special offers and discounts to visitors in your web store.
Coupon Pop enables you to pre-define a promotion that would pop up to your visitors asking them to join you in any social network you are active or wish to be active on as well as to your emails list. Coupon pop works with Facebook, Twitter, Google+, LinkedIn, and has an easy one minute set up!
We invite you to log in to StoreYa and install it now!
If you're using our Free plan, this would be a great time to upgrade and enjoy the benefits of our marketing tools!

Eyal Reich - StoreYa, COO
Eyal is the co-founder of StoreYa and a leader in social commerce. He has extensive experience in online marketing and project management. He is passionate about building amazing products that will grow your business!
Comments
comments
Powered by Facebook Comments