You have a Facebook shop – Great! You have connected it to your PayPal account and the purchases conclude inside Facebook – Amazing!! You haven't connected your PayPal and you rather redirect your fans to your eCommerce checkout– can that be worthwhile? YES! There are in fact countless benefits to be gained from being able to share product pages on Facebook. These benefits can be seen in three main categories: Social sharing, store and product credibility, and the potential for up selling.
Social Sharing
One of the main marketing outlets, especially for eCommerce stores, is social media. Social media gives you the opportunity to reach thousands if not millions of people around the world, and to engage them with fun, creative, interesting, and useful information, pictures, and content. By sharing your product pages on Facebook you are tapping into this potential, and by using some of StoreYa's social sharing tools you can reach even more people.
On every product page there are social sharing buttons for Facebook, Twitter, Pinterest, and Google+ so that your customers can share your products across many different social platforms. Additionally, the products themselves have "Want it" and "Own it" buttons. The "Want it" button creates a wish list for your customers which is shared on their own timeline and displayed in the newsfeeds of their friends. The idea is that your customers will create a wish list so that their friends can buy your product for them! From your perspective as the merchant, not only do you gain free advertisement from this, you also learn valuable information about your potential customers for sending targeted e-mails.
For example, if one of your customers buys a product from your store, you can then send them an e-mail advertising one of the other products which they added to their "want" list. Additionally, when you are having a sale, you can send e-mails to all the people who "wanted" your products. Maybe it was too expensive for them before, but now that there's a sale they will be ready to buy it.
The "Own it" button works in the same way. If one of your customers purchases a product from your store, they can click on the "Own it" button in order to share their purchase with all of their friends. This not only advertises your products, but also adds a lot of credibility to them. People are far more likely to buy something which was recommended to them by a friend.
Through these tools, and the already abundant supply of potential customers on Facebook, you are bound to build your customer base by sharing your product page on Facebook.
Store and Product Credibility
The first thing people check before making a purchase online is the credibility of the seller, and the quality of the product. If you can assure your customers that both you and your merchandise are 100% reliable then you are one large step closer to making a sale.
The first thing you should do is be completely transparent as to who you are. On your Facebook store you can display your store's information, the shipping details, and even include a "store locator" function with a Google map display (that is if you have a brick and mortar store of course).
The next thing you want to do is show how great your merchandise is. How do you do this? Easy! With product reviews. By having your product page on Facebook, your customers are far more likely to utilize Facebook's comments feature, than they would have been to leave a review on your website (in the case of this Facebook merchant there were 82 comments – and that's just from one product!). This means that new customers will have plenty to read when they browsing your merchandise in order to help them make their decision.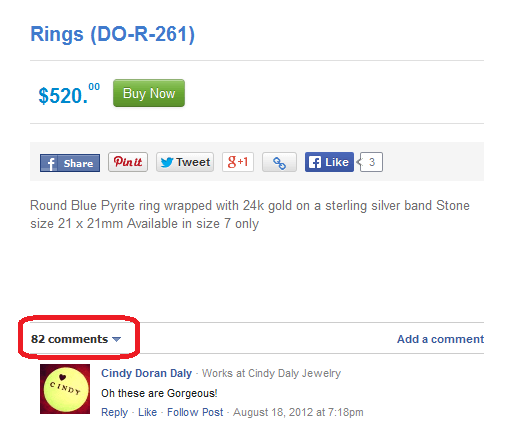 Potential for up selling
Once a potential customer is looking at your products, it is not guaranteed that they will actually make a purchase. They don't always find what they're looking for, or what they thought they liked just isn't what they want after taking a second glance. For just this situation your Facebook product page has a "related product" tab at the bottom of the screen. This encourages your customers to continue clicking through your merchandise until they find exactly what they want.
To take this one step further. Let's say your customer immediately found what they wanted. Then they notice on the bottom of the page that there are another 4 products which are similar to the one which they bought. This could very easily lead them to purchasing another product from your store.
Let's look at an example of how all of this plays out:
A fan of your store (let's call him John) sees a promotion for a specific product of yours on his newsfeed.
John clicks on the promotion which takes him directly to the product page on your Facebook store. He likes the product, but doesn't buy it. Instead he clicks on the Facebook share button – maybe some of his friends will find it interesting.
A friend of John's (let's call her Sally) sees that John shared a product on his Facebook wall. (Sally is not a fan of your store)
Curious about what John posted, Sally enters your store and sees the product, but she isn't sure if she wants to buy it or not. She doesn't have any information.
Sally reviews your seller information, and reads the comments on the product page. She decides that your store is trustworthy, and, since your product has good reviews, she decides to buy it.
After buying your product Sally clicks on the "Own It" button, sharing her purchase with all of her friends. She also "Likes" your Facebook fan page and starts following your brand.
Just from one advertisement not only did you gain a customer and a follower, you also gained a free advocate because Sally shared her purchase. In this manner, your store can be seen by thousands of viewers, and you can boost your customer base tremendously. So do yourself a favor, take a look at the instructions below or visit our Zendesk for instructions on how to share a specific product on Facebook, and start selling more today!

Zack Fagan
Zack is a social media enthusiast who loves all things digital. He is the inbound marketing manager at StoreYa where he spends his days searching for the newest social marketing scoop. If you'd like to chat with him, feel free to connect with him on any social platform.
Comments
comments
Powered by Facebook Comments