It's that time of the year again! We are just days away from Black Friday, and just over a month away from Christmas and many other holidays. Not only is it a great time of year to catch up with friends and family, but it's also the best time of the year to make more revenue and profits.
To help you sell everything you have left in stock, we've put our heads together to create a list of the five best sales promotions to bring you success this holiday season. With these holiday sales promotions not only will you sell more now, but you'll also generate buzz and more leads that'll bring sustainable growth for your eCommerce business.
Free Shipping
The effectiveness of offering free shipping should not be something new to you. Time and time again we, as well as other eCommmerce authorities, have shown that this is in fact one of the best ways to increase sales, while also decreasing shopping cart abandonment rate.
Quite convincing, no?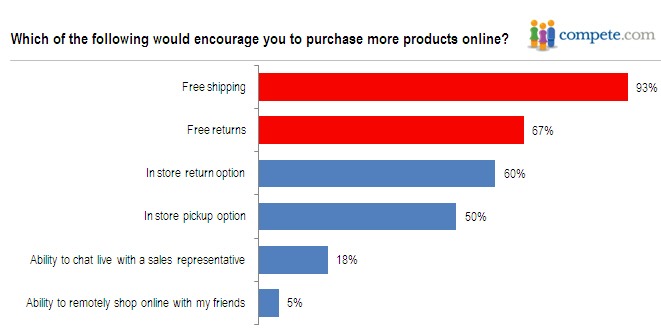 How to Implement:
Regardless of whether or not you sell globally or only inside a certain country, free shipping is the top promotion that drives people complete their purchase. The question that remains on people's heads is how to run free shipping and still make a profit. Here's how!
Create a minimum purchase threshold that activates the promotion. Don't make this too high! From our experience, using your average purchase value is a good starting place.

If you can, raise prices – but without breaking the bank for your customers. Take prices from, for example, $75 to $75.99 to cover some of the loss.

Place restriction on certain products, such as "shoes only". This works extremely well if you are looking to get rid of an end of the season product.
With this last point, you also give yourself an opportunity to test other promotions at the same time, such as offering X% off all other products. What makes your customers buy now?
Promoting Free Shipping:
The only promo on the page is…free shipping. There's no doubt about it that the free shipping catches your eye!

 Like Toms, and the majority of successful eCommerce brands, the free shipping sales promotion only comes into play once the customer has spent a certain amount. You are committing to the customer after they've committed to you!

In both cases, and many more, free shipping is placed at the top. Why? You don't want to miss out on visitors that don't bother scrolling down, and because you don't keep good things locked away as secrets.
Free Gifts
Free works. Online and physical retail stores have been using the "Buy One, Get One" or some variance of that sales promotion for years – with tons of success. Now imagine, adding the word free somewhere noticeable and attractive on your homepage or in a pop up? I know, I agree, the results would be awesome!
How to Implement:
You need to make profits, and so too often the thought of offering a freebie is thrown out of the window without giving it enough consideration. Here's to giving freebies another chance (the classic, "buy one, get one free" campaign).
Either create or get your hands on sample sizes of your products. Birchbox has become a hit with the samples they offer.

Here too you can create a spending threshold that people must spend in order to get the free item. If you are going with the "spend X, get Y for free", then go with a high-quality product that is worth the extra spending that someone may not have considered spending.

Set a time limit on this so that it is only available on Black Friday, Cyber Monday, or Thanksgiving day.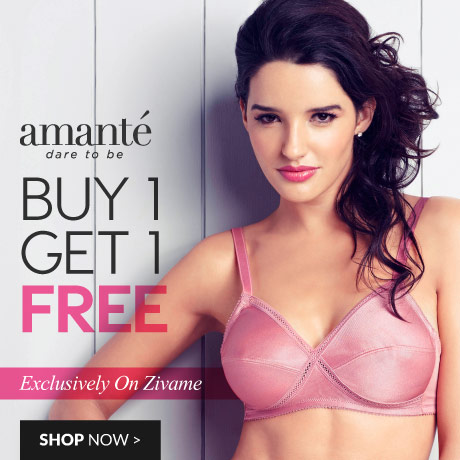 Promoting the Free Gifts:
Dollar Beard Club excels at this sales promotion. First of all, you are notified about the deal on their homepage. Again, like the free shipping, there is no need to hide this. You want people to get excited about the promotion.
What makes their offer even better, from a business point of view, is that the freebies are limited. The numbers below each product are the amount that'll be given away for free with purchases. To take it up to a godly level of professionalism, they could add a counter just below to show how many remain!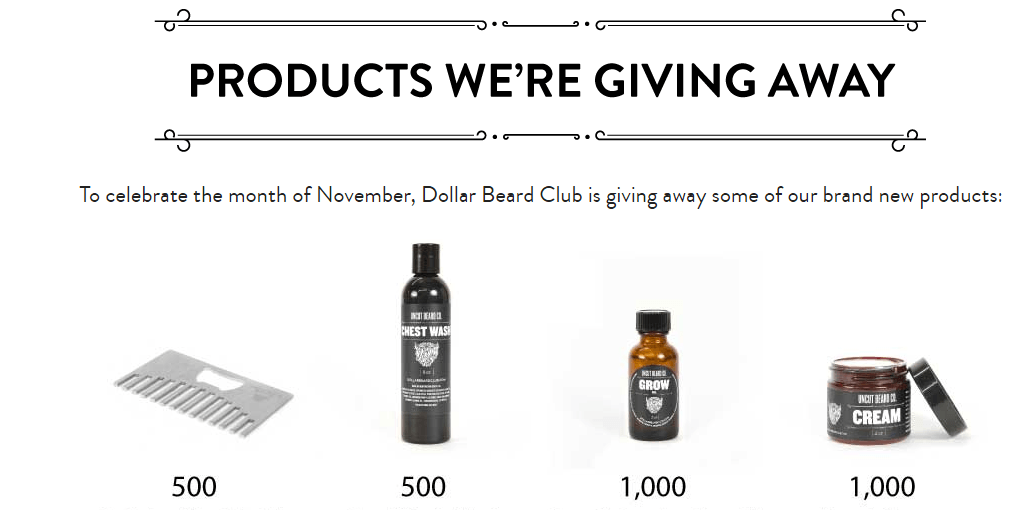 If you don't have time or knowledge to start playing with your site's code, then see what M&D Sorority Gifts did with our lead generation tool to promote the offer.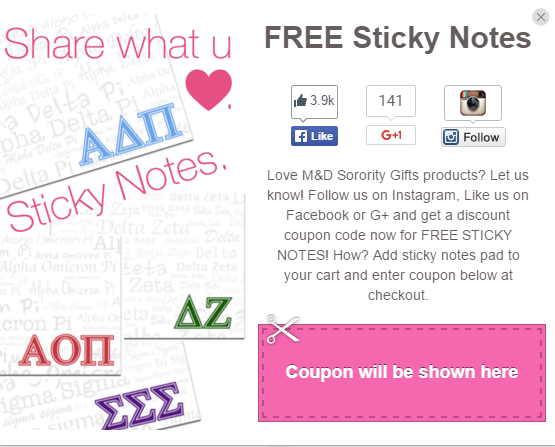 Flash Sale
Many have wondered what the ideal percent off to offer is. Normally, we'd say that 10% off is the ideal amount to offer, but that's not what'll get you more sales during the coming holiday rush. In the end, Black Friday is one giant flash sale.
Related: Finding the Discount Sweet Spot
Even though free shipping is more important than large discounts for consumers, a large discount is still effective, and still one of the factors taken into account during the holiday season! Here's how to make your flash sales better than the rest.
How to Implement:
Either make the sale storewide or on a specific selection. What's best? It depends on your goal. If you want to just sell more, then go storewide, but if you are trying to sell something that is going to be out of season, then you might want to be more specific.

To create an authentic sense of urgency, make the deal available for only a portion of the day. If you want to be really creative, you could run 40% off sale for the first 10 hours of Black Friday, and run 25% off for the rest of the day –  but this works only if people know that there will be a change (use email, social media, and pop ups to get the job done like a pro).

Lock the extra-large flash deals to only those that are following you on social media (you'll get their email address when they make a purchase).

Create different levels to the flash sale, so that the customer has an incentive to spend more. For example, if someone spends $80, they'll get 20% off, and if they spend $130, they get 30% off.
 Promoting the Flash Sale:
With the StoreYa Coupon Pop it really could not be any easier to create a flash sale! Raw Generation and My Botega understand the need to offer a "big" sale.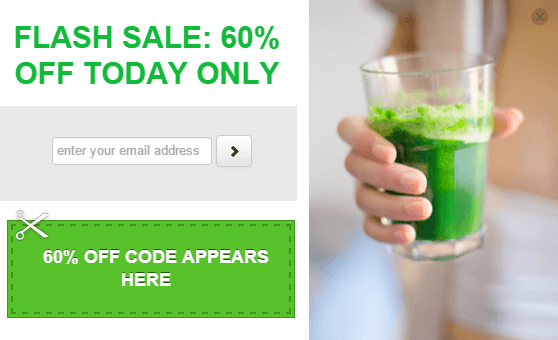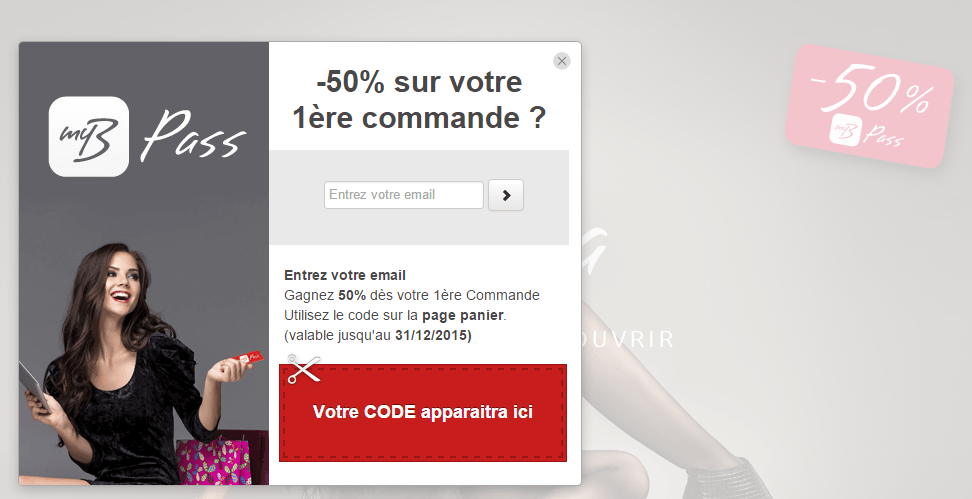 Notice the attractive tab to the right of the Coupon Pop that appears on My Botega's homepage: there is no way to miss that eye-catching tab.
Giving Back to Those With Less
Heard of Toms? Toms is a shoe company that is known far and wide today for their great shoes and even better donation campaigns. Every purchase you make goes to helping someone in need.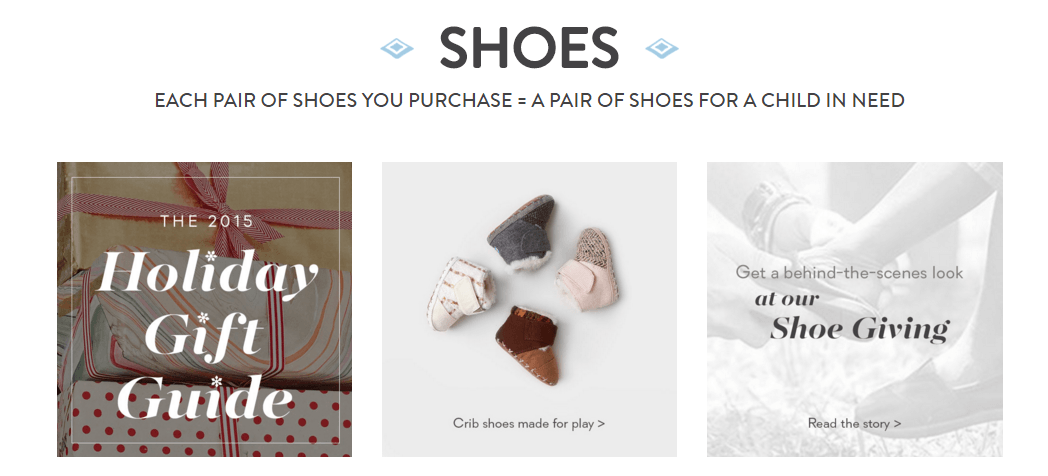 How to Implement:
If you want to donate to a community in need, but have yet to find a way to do so, then now is the time to achieve that goal. If there is a time of year that donating a portion of sales can work in your benefit to increase sales, then the time is now.
Go straight for people's compassion by explaining – with a few words and an image – why and to whom they are going to be able to help.

Partner with a nonprofit or two that you believe in and that will help promote your business by sharing the sales promotion with their community of donors.

Think of joining forces with a cause that matters to your customers. You can get an idea for their feelings by taking into account your average customer: sex, age, location, and of course the products you sell.
Promoting the Donation:
Yoobi donates a school item to a US school for every purchase you make. This is part of their business, and not just something they do during the holiday season. Can you imagine having a pop up with something like this (from Yoobi's homepage)?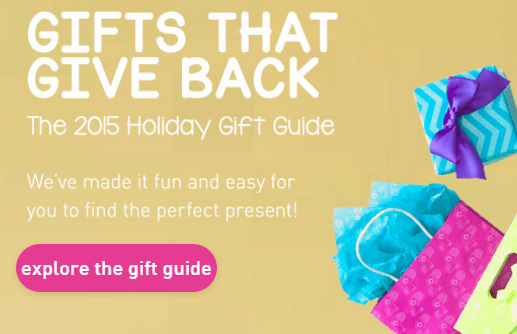 Anyone that thought about leaving your site without buying, might have just had a major change of heart after seeing that (using an exit-intent pop up)!
Related: The Psychology of Sales: 5 Mind Tricks That Will Help Boost Your Sales
Bonus: Start a Referral Program
The main goal of the mentioned sales promotions are to help you increase sales in the short-run, however, you can't (and must not) lose sight of the future. As was pointed out in a guest post here on StoreYa, you constantly need to keep an eye on repeat purchase rate, cost per acquisition, and repeat purchase rate if you want to grow your business.
The most efficient way to increase repeat purchase rate, while also increasing the lifetime customer value of your average customer is through a simple referral program. The results of a well thought out referral program? Your customers will come back to you time after time, and the cost per acquisition of customers decreases. That's perfect.
How to Implement:
Find out what promotion attracts your fans the most: discounts, free shipping, free items, or something else, and make that part of the referral program.

Make sure that you make it easy for your paying customers to share the referral. What's the point of having a referral program if it cannot be shared?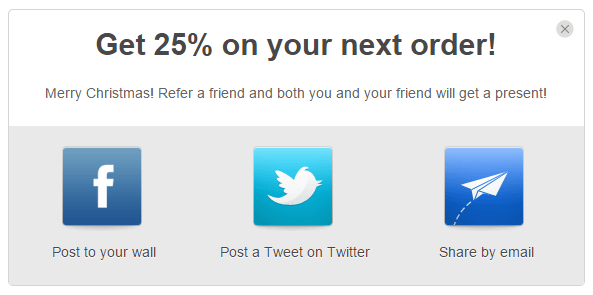 Maximize the return on this effort, by urging customers – by creating a sense of urgency – to buy again before the end of 2015 by adding an expiration date.
Promoting Your Referral Program:
The best practices for making a referral program turn into your best marketing tool is to make it part of your "Thank You" page (after the purchase is made) as well as in order confirmation emails.
Overall
All of these sales promotions can do wonders for your business, whether you want to generate more buzz around your brand or just want to make as much money in as little time. In order to make sure that the ROI (return on investment) on these promos help you reach your goals, be sure to take into consideration these tips, some of which were already mentioned.
Related: 4 Amazing eCommerce Holiday Marketing Campaigns that you Can Copy
Incentivize people to spend more money by making certain deals come into play only after spending a certain amount.

A referral program is not in itself a game-changer during the holiday season, but you should still implement one to your store now, seeing as you'll be having more shoppers than usual on your site

Don't be afraid to run more than one of these sales promotions at the same time (but try to keep it to two at most).

Create a sense of urgency for what you are trying to sell. Urgency is created by offering great deals, like the ones offered, for a limited time and by stressing the positive effects/results of owning your product.

Don't forget to be creative with your campaigns, but no need to recreate the universe with your creatives :).
It's your turn to get to work and finalize your offers. We do, however want to hear from you! What will you be running on your store? Are you going to be running something else other than what is listed above?

Ty Rothstein
Ty is a digital marketing enthusiast that can't get enough social media marketing and content marketing. He is the inbound marketing manager at StoreYa where he spends his days searching for the newest social marketing scoop and creating amazingly awesome content. If you'd like to chat with him, feel free to connect with him on any social platform.
Comments
comments
Powered by Facebook Comments