As business owners, entrepreneurs, eCommerce merchants, and/or digital marketers, we are always on the lookout for a better strategy to increase our online sales. Sometimes we end up looking too far for the right solution (in reality it's in front of us): exceptional customer service.
That's right, customer service can be a great sales tool, if not maybe the best! Amazing customer service is the element that makes everything else come together, and for your ecommerce business, that means more sales. To put this into perspective, 42% of customers purchased more after a good customer service experience!
1. Be Positive – Even When Things Look Bad
When you get a new message from a customer, you know you are going to answer (I hope). The next question is, "how do you answer?". Your answer can either come off as negative or positive, and we all know that staying positive is the way to go.
When interacting with customers, think of yourself as an older sibling, or anyone else in a role-model position. An older sibling has an effect on the younger one, and hence the preference is to be positive in order to guide the younger sibling onto the right path. The same goes for your customer-business relationship.
Customer Question: "Do you currently have any sales offers?"

Negative: "No, at this time all products are available as priced." 

Positive: "Thanks for reaching out!. At this time we don't have a discount offer. However, we do have sales every now and then. Please signup to our newsletter [insert link] to get the latest news on special offers."
Being positive, even when the answer might be "no", not only makes the customer feel fine about reaching out (instead of feeling that they've been put on the spot for asking a question) and further nurtures the relationship.
P.S. Notice that the positive answer also enables the business to strengthen the relationship.
"There is a spiritual aspect to our lives — when we give, we receive — when a business does something good for somebody, that somebody feels good about them!" – Ben Cohen, Co-Founder Ben & Jerry's
2. Be Available for Live Chat
In the study "Making Proactive Chat Work" by Forrester Research, it was found that 44% of consumers believe that offering live chat while making an online purchase is one of the most important features a website can offer.
You remember the saying that the customer is always right. This is one case in which the customer is 100000% correct.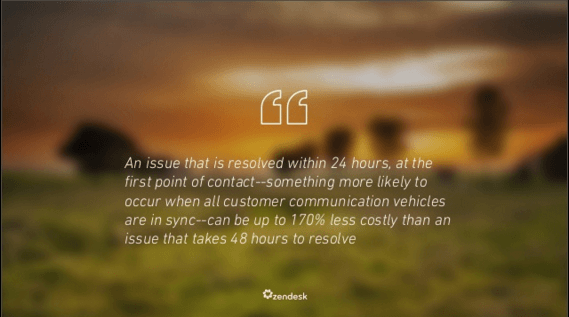 Via Zendesk 
How can live chat be less costly (as mentioned in the above images)? One example relates to abandoned shopping carts on your site.
Instead of having to send out emails or purchase an app that does so automatically, you can now deal with abandoned carts on the spot. Two of the leading causes of shopping cart abandonment are high shipping costs and estimated shipping time that takes too long. Both of those can be solved or have their effect on the customer minimized by enabling them to speak with a customer service agent on the spot.
"Ask your customers to be part of the solution, and don't view them as part of the problem. " – Alan Weiss, Author "Million Dollar Consulting"
3. Prepare Answers to Popular Questions Ahead of Time
Like many other businesses – both big and small – there is probably a certain question (or two) that you get more often than others.
On the one hand you can write a new answer to the inquiry each time from scratch.  On the other hand, what you can do is create an answer to the most common questions ahead of time.
What are the benefits of having a copy ready ahead of time? Not only do you save time, but you can also cut out possible errors that could occur when you need to answer the customer later on. If you are having a bad day or have too many customers reaching out for assistance, you don't want the way you may be feeling to influence your answers.
Recommended >> 5 Customer Retention Techniques That Will Get You More Repeat Customers
You can of course edit the prepared answer on a case to case basis to make sure that it answers the customer's questions (highly recommended to put personal and relevant touches to the message if you have time).
"There is extraordinary chemistry that exists in long-term relationships"- Conrad Levinson, Author Guerilla Marketing series of books
4. Have a Clear Return Policy
As we mentioned just before the start of the holiday season, in our 22 point to-do list for holiday season success, one of the ways you create a thriving eCommerce business is by removing stress (and doubts) from the purchase process.
Live chat is one way to remove doubt from the shopper's mind, and so does a clear return policy.
Whether or not you are available 24/7, creating and posting a clear return policy on your site is a must. There's a reason that successful brands invest in creating these.
A few pointers for a good eCommerce return policy:
Use plain English and don't try to confuse people with technical vocabulary

Make it easy to find. Don't make the link to your return policy reachable only via fine print at the bottom of the page

Don't add return costs, unless you don't want the customer to ever make another purchase

Make sure to make two things very clear: how long the person has to return the product, and what happens upon returning it (store credit, exchange, or money back).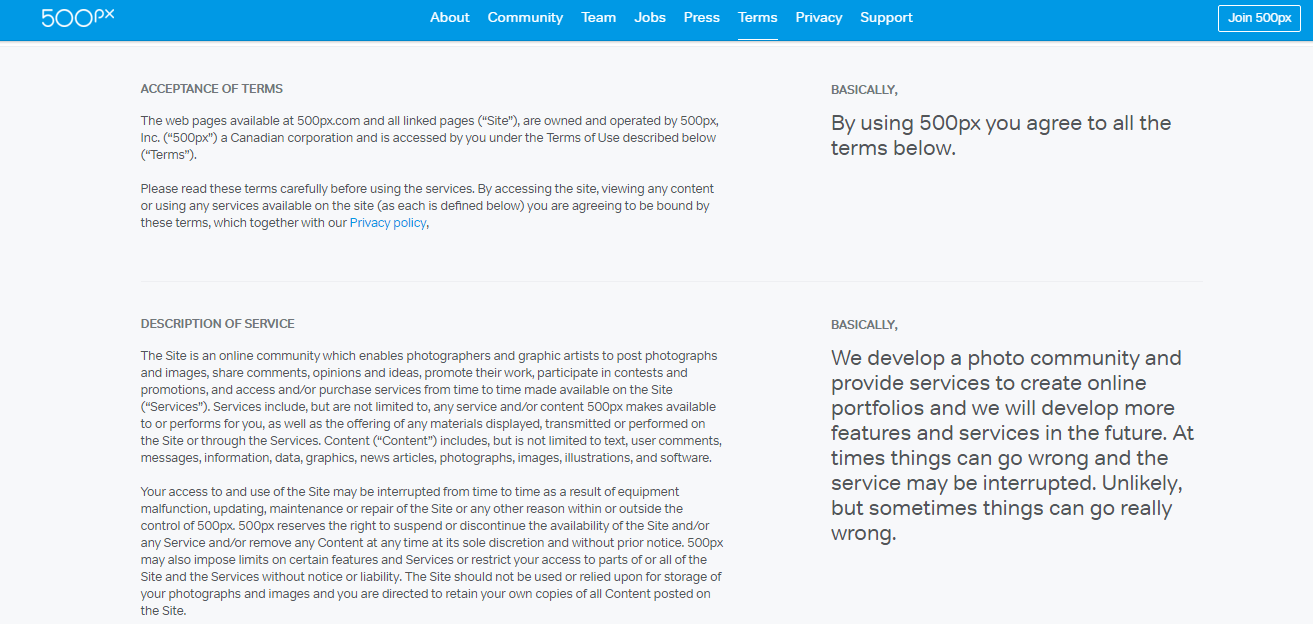 500px: On the left, the legal text. On the right, a simple interpretation
 "The single most important thing is to make people happy. If you are making people happy, as a side effect, they will be happy to open up their wallets and pay you." – Derek Sivers, Founder CD Baby
5. Don't Make it Difficult to Get Support
Have you ever seen some variation of this text, "Thanks for contacting us. Please send an email to ____." You've probably seen it after a customer has reached out to the company via a blog post, or across various social media sites, and not via the supported contact form.
Do not get hit by the "lazy bug" and send the client elsewhere our of your own convenience. This is a perfect example of a brand (a big one) setting up roadblocks to customer satisfaction.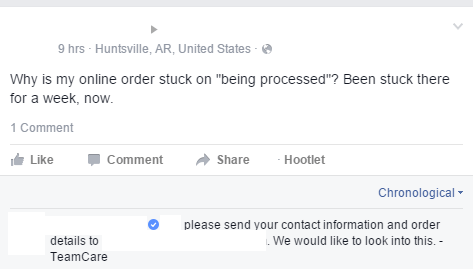 Making the customer work hard for no reason
Sometimes the only way to give excellent service in regards to an inquiry is via your chat or customer service platform  – but that is rarely the case. In those cases, try to explain to the customer why they need to contact you again on another platform.
In order to give excellent customer service, you need to be ready to assist the customer, whether they've contacted you via Twitter, Facebook, or even on a blog post. Your customer's comfort should be a priority! Take note from KLM.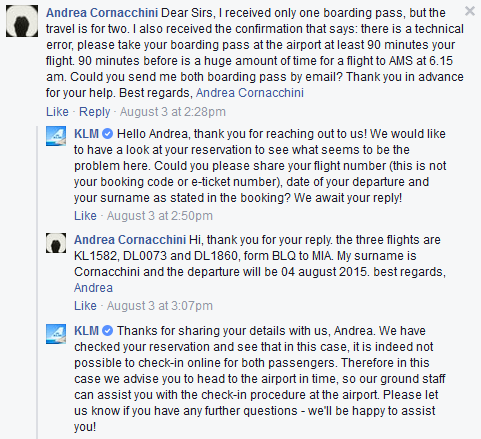 "Customer service represents the heart of a brand in the hearts of its customers." – Kate Nasser, The People-Skills Coach
Recommended >> 5 Tips to Improve Your Customer Service on Facebook 
6. Don't Leave Issues Unresolved
When I say don't leave something unresolved, this has two meanings. First, once you have responded to the customer, but have not fully answered the question, be sure to get back to them ASAP. Second, don't decide not to answer a complaint or question. A positive answer is better than no answer.
This company has made a bad practice of not answering complaints. Today is November 25th, yet this complaint has no answer (that is 6 weeks!). The person has paid already and now it seems the company has disappeared. Even if they answered his request via email they should have still responded with a positive resolution.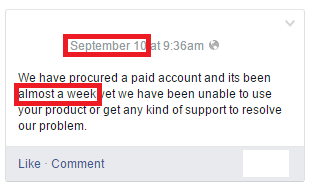 By either not answering or not following-through on the customer's questions, you are ruining whatever positive first impression you may have made and at the same time leaving a bad last-impression that'll leave a bad taste in their mouth.
"If you make a sale, you can make a living. If you make an investment of time and good service in a customer, you can make a fortune." – Jim Rohn, Author and Motivational Speaker
7. Make it Personal
If you are signed into your account, and you start speaking with someone in live chat, wouldn't you want them to refer to you by your first name, and in accordance to the products that you have purchased. It'd be funny for someone to recommend something you bought a month ago.
Understandably, there may be other tasks that you might be working on at the same time, and hence you use automated responses. Automated responses are perfectly fine, and even recommended – until you start sounding like a bot and the answers have no quality in them.
The point is that your customers want to feel like they have access to real people, real answers, and a company with emotion.  You now know what not to do. Here's what you should do.
The email I got from ModestPop has a personal touch, even though I was not the only to receive the message. I get a name, picture, and real email address (as opposed to a "no reply" email address).

 A few power tips to make your customer service more personal:
If you use a singular support account/email, then have the person answering sign with their own name.

Add an image of the customer service agent to the solution you are using to interact, whether it's email, or another type of customer support platform, such as Zendesk.

Know the customer's history – both their purchases and what they've contacted you in the past about.
"Go beyond merely communicating to 'connecting' with people." – Jerry Bruckner, Author The Success Formula for Personal Growth
Customer Service at StoreYa
We're always positive. Like a baby learns to crawl, we learned to be positive before all else.
Along with positivity, we believe in strong communication between ourselves and all of our current and/or potential customers. If we can't answer a technical question on the spot, we still make sure to let the person know that we are working on a solution. We don't want to leave anyone hanging out to dry!
For us customer service goes beyond waiting for questions from merchants. Whenever we see an opportunity to interact with a merchant to help them get better results by offering feedback and tips, we seize the opportunity.
A Recent Example



Earlier this week we had a customer reach out to us via our site and inform us that he was having trouble making a payment. I gave him a call.
While speaking to him,we were able to get the payment processed, and then, instead of ending the conversation, I continued the conversation to offer him a couple bits of feedback on his web store. Finally, per his request, I sent him an email so he'd have my email address saved for future references.
Why am I telling you this? As you may have noticed, I do a lot of the marketing at StoreYa, but that does not mean that I don't do what's needed, like the rest of the team, to make sure our customers are happy and successful. Instead of just making sure the payment went through, I stayed on the line, gave him a couple pointers, and gave him my contact details so we could further discuss our apps and his store.
"Make a customer, not a sale." – Katherine Barchetti, Founder Barchetti Shops
Exceptional Customer Service Will Increases Sales
If you want your customer service efforts to increase sales, then here's what you need to do.
Always stay positive, even when it feels you are getting yelled at

Make it easy to get in touch with your representatives

Create prepared answers to popular questions

Make sure you have an updated return policy

Don't insist on only answering questions via chat or email. Your goal is to help – whether on Facebook, Twitter, or over the rainbow.

Follow-up on messages that you were not able to answer the first time. If there is a doubt in your mind that the customer doesn't fully understand, get back to them.

Keep your message and tone personal – that goes for automated messages too.
If you don't treat customer service as a chore, but rather as a crucial step in your sales funnel and a resource that creates a better relationship with customers, then winning over new customers and keeping old ones should be a piece of cake.
Loyal customers, they don't just come back, they don't simply recommend you, they insist that their friends do business with you. – Chip Bell

Ty Rothstein
Ty is a digital marketing enthusiast that can't get enough social media marketing and content marketing. He is the inbound marketing manager at StoreYa where he spends his days searching for the newest social marketing scoop and creating amazingly awesome content. If you'd like to chat with him, feel free to connect with him on any social platform.
Comments
comments
Powered by Facebook Comments