If you haven't been living under a rock in the last week (and even if you have) you must've heard people obsessively talking about this new game called Pokemon Go. Nintendo's latest breakthrough and one of the most talked about trends after Game of Thrones, this game has taken the country by storm.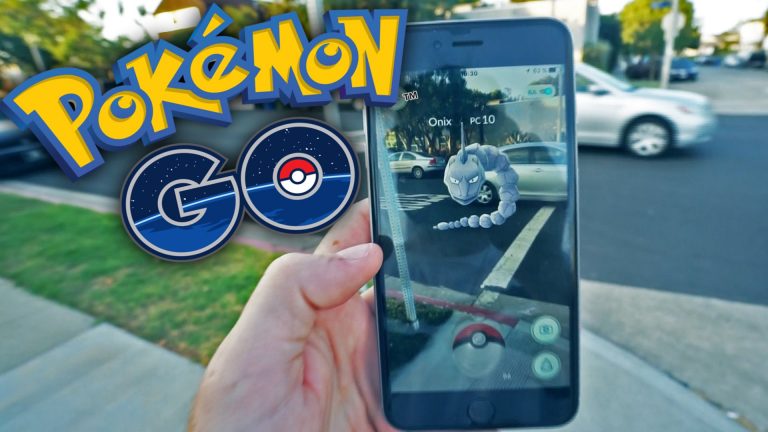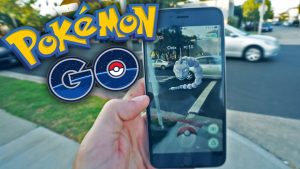 It has become one of the must-have games for all ages: from teenagers to nostalgic adults. I'm quite sure your grandma would love it as well!
Pokemon Go is an augmented reality (AR) game that uses GPS and mapping capabilities in your mobile to let you see Pokemons and catch them in real life around your city's landmarks. The objective of the game is to capture as many Pokemons as possible, train them and seize territories.
The game became such a hit, that it literally surpassed Snapchat and Facebook engagement rates. It has more daily activity than Twitter and Nintendo's stock has risen by 51% in a mere week since the launch of the game.
This shouldn't come to you as a surprise to see people strolling along the streets, glued to their phones searching for virtual creatures and stopping at random places as they go. They are players on a mission!
The internet has literally exploded with videos and screenshots of the Pokemons being captured all over towns with people coming out of their homes and getting outside with one common purpose. You see Central Park filled with hundreds of people rushing through in the middle of the night to catch a rare Pokemon. Nothing stops the gamers. This kind of attention is a huge opportunity for businesses out there. The popularity of the game can easily be used in your next marketing campaign. Here are some ideas how you can generate money off this trend and become part of the Hype.
Make use of "PokeStops", "Gyms" and "Lures"
Ok, so before you actually start I suggest you download the game (it's available on both iOS and Android) to get familiarized with the basics. There are a few things you should know about:
PokeStop
This is an area of the game where people come to catch Pokemons and acquire other virtual items. They are all around the city, situated near famous landmarks and popular spots, such as cafes, restaurants, clubs and just about anywhere, really. If your business is located in the city, there is a good chance there is one right next to you. Even if you are positioned in the Suburbans, there are plenty of spots where players will go to catch rare Pokemons. See this chart.
Gym
This is where players will be hatching day and night. In fact, if you noticed an insane amount of people suddenly gathering up around your front door, consider yourself lucky. Your place might be one of the "Gyms", where players come to train their Pokemons and compete with each other. Gyms attract crazy amount of foot traffic.
Once you identified where you're standing you can plan your strategy. The very first thing you will want to do is to acquire so-called "Lures". Probably one of the coolest things in this game for a business! What Lures do is attract more Pokemons to your area for 30 minutes. You can buy them in bulk which will cost you around $1.19 per hour. That's a pretty cheap investment, isn't it?! The players see these lures on their game map and come you to you to catch more Pokemons.
L'inizo Pizza Bar in New York made headlines reporting 75% stream in sales over the weekend. Guess how much the owner Sean Benedetti spend on his investment – $10. So make your store a Pokemon Hub and prepare to greet your newly acquired foot traffic!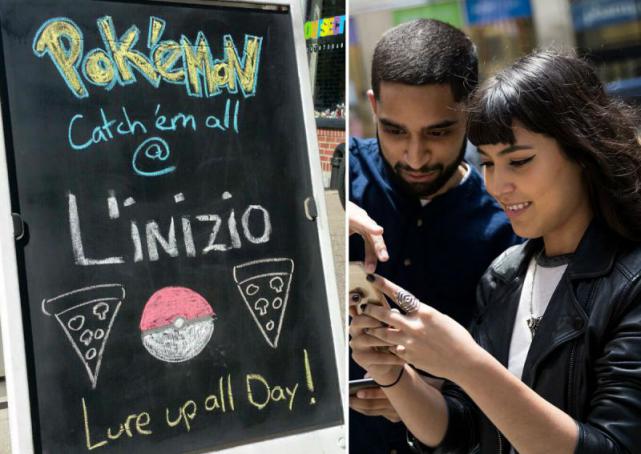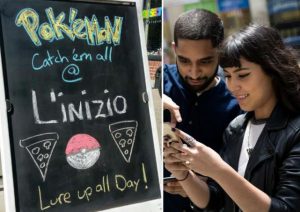 Offer something of Value to Gamers only
Once your store is swirling with dozens of gamers, start attracting them by giving out discounts and special offers, try to come up with something that would help them. The key is to catch the customers before they catch the Pokemon.
Get them excited by letting them know you have a rare valuable Pokemon popping up in your area. Check out this rarity chart by Rottem Guy on Reddit to know what to look for.
Tip: You can incentivize the players to join your mailing list by offering updates on player discounts, news or products. Maybe even set up a dedicated email with "Pokemon of the Day" headline.
This seasonal craze (for now) is an excellent opportunity to build a relationship with both your existing and potential customers. Be a part of a team and think of how you could support them and make your contribution.
The game is a battery hog, so there is one thing players will be short of and that's battery life. This is where you come in: stock up with a few charges and offer a boost. You can set up a charging station for them to come by and take a break. Don't be afraid to show a bit of Chutzpah! It works!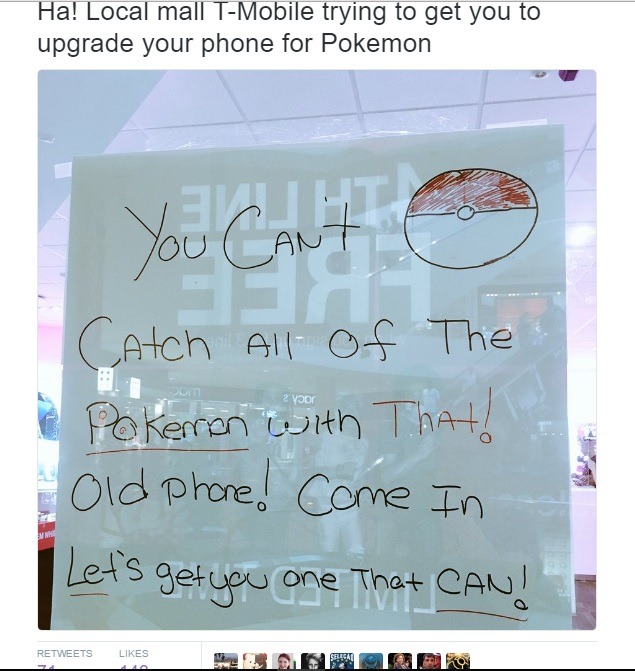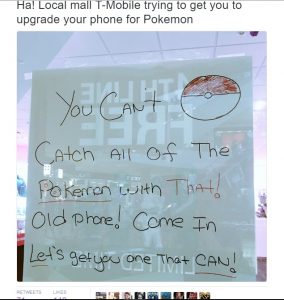 Offer your customers refreshments. They'll most likely be exhausted and dehydrated after walking all day looking for Pokemons, they'll appreciate the thought.
While they are recharging their batteries, they'll be looking around the store and naturally, start chatting with you about your products. This is where you get your moment for an upsell!
Go an extra mile and give them hints on the next PokeStops in the area. Don't know any? Ask them to fill you in. The aim is to get them to stick around and catch them all with all your nonvirtual items.
Connect your brand
There are three teams in the game: Instinct, Mystic and Valor. Each team competes to hold local landmarks and become the dominant power.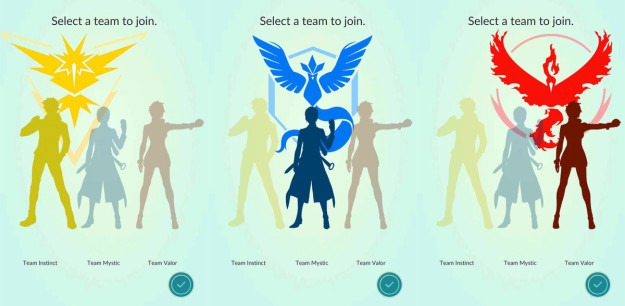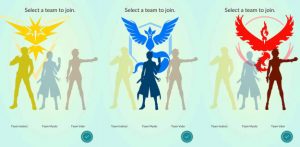 Depending on your brand message, try and see if you can connect to one of the teams. For example, you could pick Mystic if you value wisdom or Valor if your brand promotes strength.
You could target a specific team and connect with them by publicly acknowledging them on your window sign. Something short, like: "We believe in bravery and courage. 50% discount on all skateboard collection for team Valor".
Even those that don't have an idea what you're talking about will become curious and pop in to see what's going on in the shop.
The game is impacting all aspects of players' lives including their restaurant choices. In fact, the location of Gyms has become nearly a sole factor for players when choosing where to eat out. It's a huge upsell for restaurants. By being a part of the game community, you not only bond with your customers but you create new lasting relationships. I mean, seriously, I would remember my #Charmander Chai Latte or a Jumbo Cappuccino with a hand drawn Mew on it!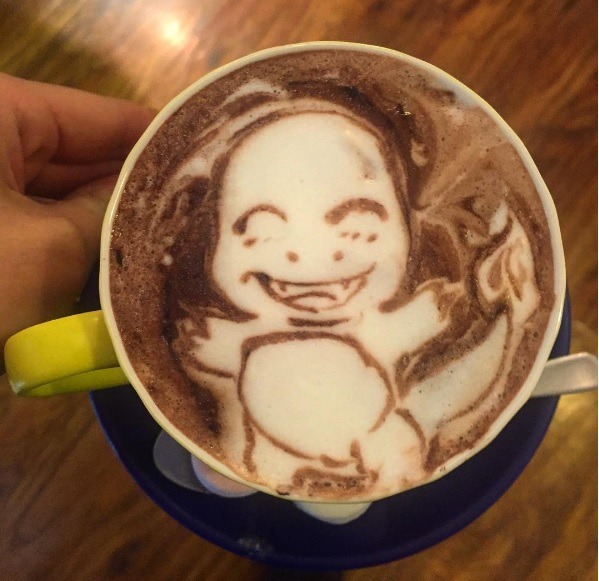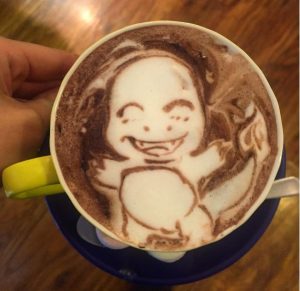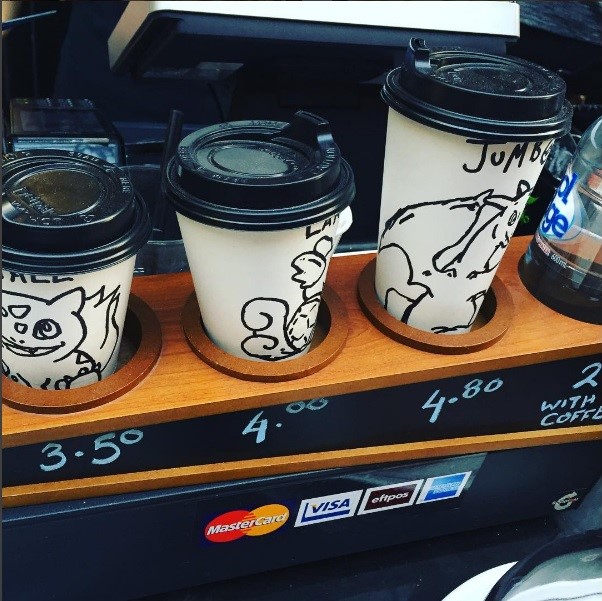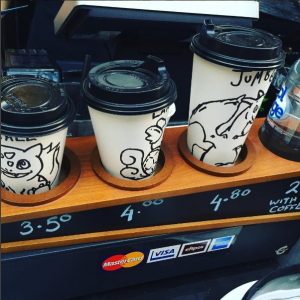 Yelp has even launched a new feature helping the gamers find restaurants and other businesses that are located in or near PokeStops. Users can now search for cocktails, food or clothing knowing that they can catch another Pokemon right on the spot.
Get involved on Social Media
Get on it and start bragging on Facebook and Twitter about Pokemons in your store! If you want to skyrocket your sales, get in on the trend and talk about it! You've had a few rare Pokemons or maybe a lot of people coming to play because you're an ultimate Pokemon magnet? Go ahead and be a total show off!
Some tricks you can use:
a. Have one of your customers play all day for you and take screenshots of Pokemon captured. You could incentivize a couple of kids (or adults) and offer them some nice perks in return, like lunch on the house or a couple of items from the store (headphones, books, etc). They'll be thrilled to get some free stuff while playing their favorite game. By the end of the day, you'll have enough material to post and brag about on Facebook.
b. Run a #hashtag contest, have your influencers and customers take pictures of them catching Pokemon in your store and posting it on their Social Media with you tagged in it. Encourage them to make videos and take pictures. Have a look at how @Jonathan Gaurano has taken it to the next level with this super cool video.
c. Set up targeted Facebook ads in the geographical radius of your choice to spread the word about your local Pokemon. Those that are in close proximity will rush through the doors, especially if you're located in a small town. Use hashtags such as #pokemon and #pokemongo
d. To give you a head start, we've created a Pokemon theme side tab that you can use on your Coupon Pop design, so you can increase your CTR, get more leads and sales by utilizing the power of Pokemon!


e. Update your audience with latest news and peak luring hours. Check out this Chinese Restaurant in Sydney, Australia.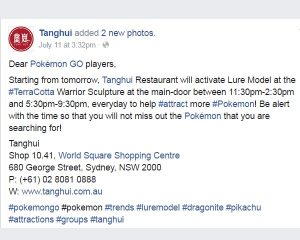 Set up a pop-up shop
If you don't have a physical brick and mortar shop or you're selling mainly online, this could be your chance to show off your products and get some good exposure. The easiest way to do it is to check on the map where are the most popular meetups, gyms, and PokeStops. Then go and set up a pop-up store there. If you are a fashion designer, you have an amazing opportunity to show your collection to hundreds of potential customers. Shoot an announcement on Facebook saying something like:
"You've been waiting to see the latest collection, but you've been too busy catching Snorlax around town? We've decided to bring the latest pieces to you. Come by to Central Square tomorrow to our new pop-up shop and be sure there'll be plenty of lures"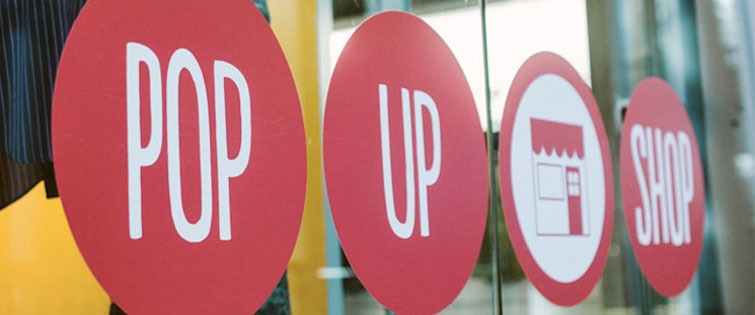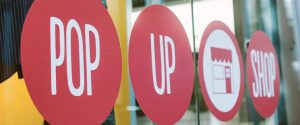 This might be your big moment. Stock up on your best sellers and buy a few lures. You'll see enormous traffic and boost your sales in one day with minimum investment.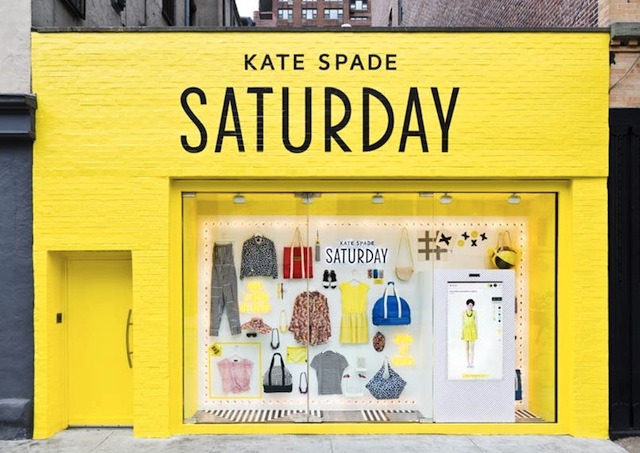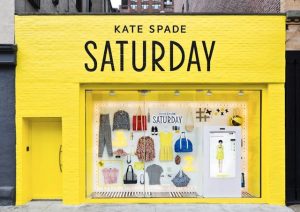 If this is not enough there are now rumors about Niantic (Pokemon Go developer) planning to introduce sponsored locations, which means that retailers can use it to turn their locations into so-called portals. It should ideally work under the same principle as pay per click system.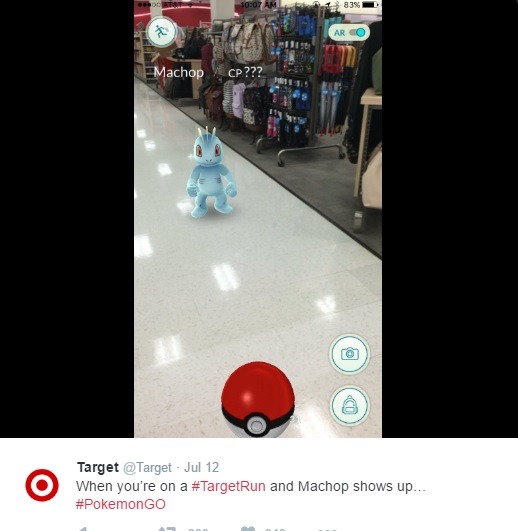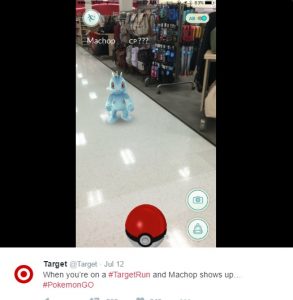 This hot mobile game has taken the world and believe it or not, this is just the beginning. Businesses all around the planet have taken on the trend and have been cashing in on the Pokemon mania. You cannot know if it will stay here for years, all you know is that it will definitely bring you money in the next 6 months ahead and that's an opportunity you wouldn't want to miss. Its tipping over Digital Marketing and is creating new connections among people. This is your time to shine!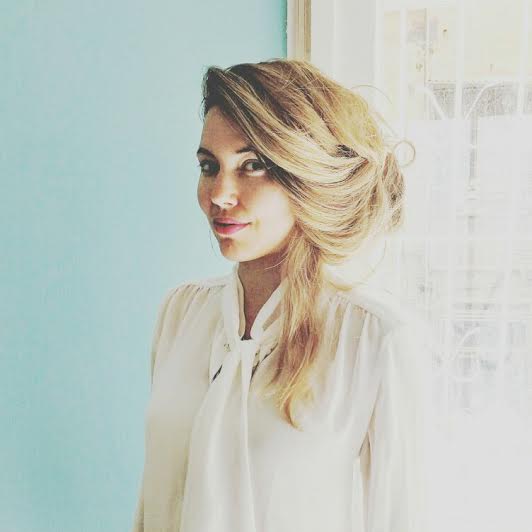 Anna Kachur
Anna Kachur is a marketing enthusiast and the inbound marketing manager at StoreYa. She spends her days searching for the newest social marketing scoop and creating amazingly awesome content. When she's not in front of the computer she loves hiking in the outdoors, exploring new places and meeting new people.
Comments
comments
Powered by Facebook Comments