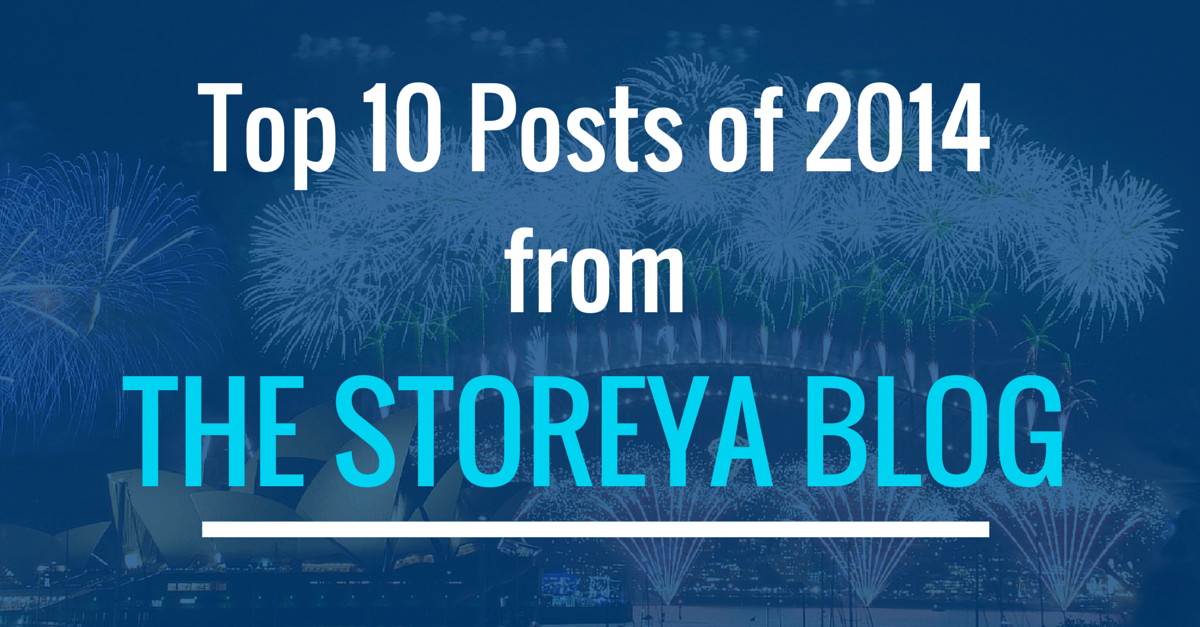 2014 is coming to an end and boy has it been a wild year!
We saw the Sochi Winter Olympics and the FIFA World Cup, the United States and Cuba rekindle diplomatic ties, the vote for Scottish independence, Facebook's purchase of WhatsApp for $19 billion, and much more!
While we were reflecting on the major world events of 2014 and looking forward to what 2015 will bring, we decided to take a look back on our own year here at the StoreYa blog to see what our "biggest events" were.
We dove into our archive in order to find the posts that you – our loyal readers – liked (and shared) the most in order to give you a quick recap of some of our best content from 2014!
Ready? Let's get started!
Number 10 on our list is all about hashtag tools! Hashtags are one of the most powerful innovations to happen to social media since social media itself. They add a whole new aspect to content sharing, competitor research, and online competitions.
Using hashtags effectively can be quite tricky though – which is why we put this post together – in order to answer your questions, and introduce you to 7 tools that you can use to improve your hashtag marketing!
See the post here >> 7 Hashtag Tools
This next post is composed of 15 absolutely amazing presentations taken from Slideshare, which is, in my opinion, the best social platform for discovering easy to understand content.
Each of the presentations has a unique and clear design, and transmits information that is important for any eCommerce store owner. Here's a small taste of what you will learn in this post – the art of branding, how to build brand trust, how to do social media marketing with a minimal budget, and more!
See the post here >> 15 Slideshare Presentations
The 8th most popular post is one that is very helpful to many (but not all) of you. It goes through ten of the best plugins on WordPress. These plugins cover your every need from social sharing to site security.
(Almost) everything that an online business owner could need for running their business can be found in this post!
See the post here >> 10 WordPress Plugins
Do you use social listening in your business? You probably should! It's one of the most underutilized aspects of social media marketing.
In this post you'll learn about using social listening for customer service, customer opinion, and competitor research. You'll also learn about a few different online tools that you can use to help you along the way!
See the post here >> How to Use Social Listening
Coming in at 6th is a post about one of the smaller of the major social networks – Pinterest. That being said, Pinterest is also one of the strongest social networks for eCommerce!
In fact, 47% of US consumers have made a purchase based on a recommendation from Pinterest. This post will teach you how to market effectively on Pinterest!
See the post here >> Pinterest Marketing Tips
Did you know that color can increase brand recognition by 80%? Or that up to 90% of decisions based on initial impressions are determined by color? Clearly color is a huge influencer on marketing and branding!
In our 5th most popular post of the year you will learn all about how to utilize color in your marketing, and how different colors can be used to convey different meanings!
See the post here >> How to Use Color in Marketing
This next post deals with Google Plus – a platform with a tremendous amount of potential. In addition to the massive amount of users it has (second in users only to Facebook), G+ also provides some serious SEO benefits and some pretty cool features!
In this post you will learn everything you need to know in order to set up a Google+ business page, market it, boost engagement, and more!
See the post here >> Google Plus Marketing Tips
In the fast and furious world of eCommerce and small business it can be very difficult to keep up! Lucky for you there are millions of tools out there that you can use to automate some of your business processes. The question is though, how do you know which of these tools to choose if there are so many of them??
That's where our 3rd most popular post comes in. In this post you will learn about 46 different tools in categories like SEO, competitor research, finance, social media, and much more!
See the post here >> Big List of Online Tools for Small Business
Everyone knows that email marketing is important for any online business. The problem is that it's just not so easy to build up a good list in the first place!
To help you out with this very problem, we asked 25 of the biggest marketers in the world for their best list building techniques!
See the post here >> How to Build Your Email List
Your favorite post from 2014 is all about boosting your business through word of mouth! This makes sense because this is also one of the most elusive, yet effective marketing methods out there.
If you can get people talking about your business in a positive way, then you are definitely going to see a boost in your sales. The thing is, it's not that easy to get people to talk about your business! In this post you will learn a few methods to do just that!
See the post here >> Word of Mouth Marketing Tips
We Look Forward to Seeing You Next Year!
It's been a great year and we want to thank you for being a part of it! You are the ones who have helped our blog and our business grow over the course of this year, and we look forward to continuing our journey together with you!
See you in 2015!

Zack Fagan
Zack is a social media enthusiast who loves all things digital. He is the inbound marketing manager at StoreYa where he spends his days searching for the newest social marketing scoop. If you'd like to chat with him, feel free to connect with him on any social platform.
Comments
comments
Powered by Facebook Comments