AdWords Next is here! Or as we now call it, 'Google Ads Experience.'
Although the beta version has been around for a year, Google has finally made the change to the new Google Ads dashboard a must. And if you are one of those Google Ads marketers who hadn't been playing around with the beta version, there is a big chance you're feeling a little disoriented right now by the update.
The first thing you will notice is the brand-new dashboard design, which is significantly different in look and feel. But with the goal to make Google Ads less cluttered and give advertisers easier access to the data they need to optimize their ads for big success, AdWords Next will have you acclimatized in no time at all with their new and updated features.
To help you do just that, here's everything you need to know about AdWords Next, and how you can navigate Google Ads' new interface for max success.
Navigating Google Ads' New Interface
As we mentioned in the intro, the first thing you'll need to get used to is the design and feel of Google Ads' new interface.
The main difference between AdWords Next and the old Google Ads dashboard is that in AdWords Next, the main navigation panel is now located down the left side of the dashboard home screen, and dimensions, reports and features are now located on the top right of your dashboard.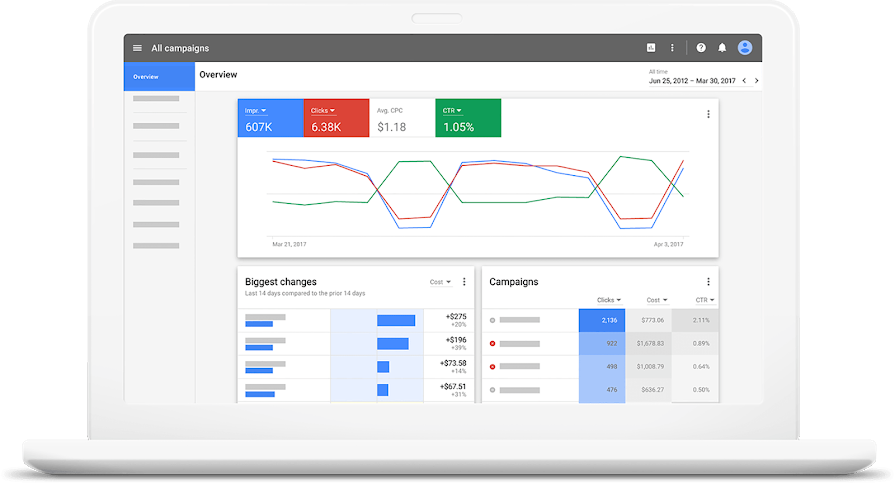 Next is the challenge of navigating the Google AdWords Next interface to find those features you love, as well as to discover the great new AdWords interface features that come with the update.
The easiest way to navigate this is with Google keyboard shortcuts, which help you find the features you are looking for with a couple of keystrokes. Here's Google's Navigating the New Google Ads Experience cheat sheet.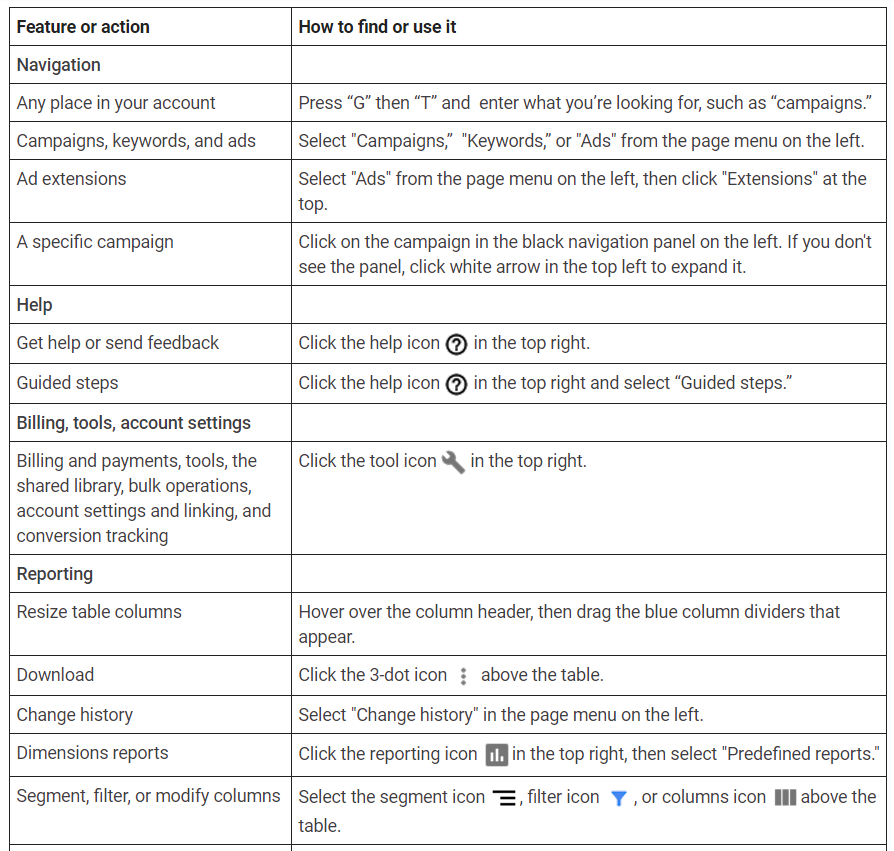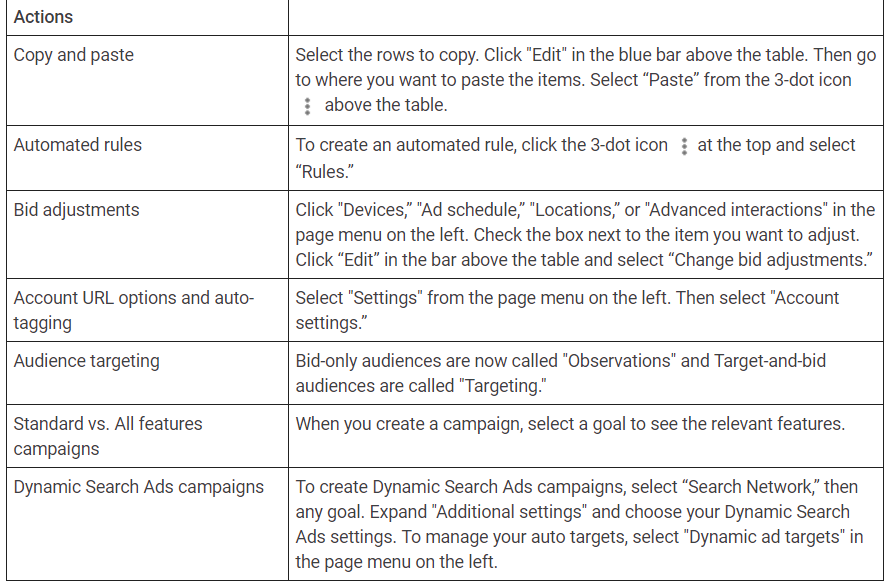 Pro Tip: Keyboard shortcuts and dashboard search will help you to move around Google Ads more quickly and efficiently, and should be considered your new (Google Ads) best friend!
Here's a list of our favorite shortcodes that will make navigating Google Ads' new interface a breeze.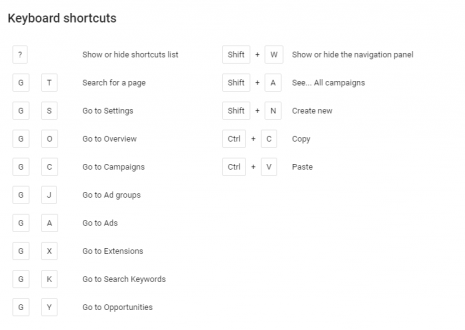 Now that we know how to move around the new Google Ads experience, it's time to look at all those impressive new features AdWords Next recommends to advertisers.  
What are The Best New Features Google Ads' New Interface Offers?
Here are the top 6 new Google Experience features you need to start using today!
1. Get Access to Google Ads Search Term Data Report Without Leaving the Dashboard
If you want to save valuable time (I mean, who doesn't?) then this feature is for you. We all know how time-consuming Google Ads monitoring and optimization can be, especially when you're juggling all console/platform reports. Google's Search Term Data report enables you to see your search term report within the Google Ads dashboard at a product group level without needing to download to Excel. Super cool, right?
Anything that saves valuable time for advertisers is going to be a favorite. Which is why our Search experts love the ability to view search term reports right from within AdWords.
How to find this feature: Select 'All Campaigns' → 'Keywords' → 'Search Terms.'
2. Testing Your Ad Copy is Easy With Google Ad Variations
Another new favorite feature that Google's new interface offers marketers is Ad Variations. This function allows you to test your Google Ads headlines and descriptions and performance of your landing pages either within campaigns or across your whole Google Ads account before you launch your new ads.

With Ad Variations, you can switch between H1 and H2 headlines and find, replace or add ad text.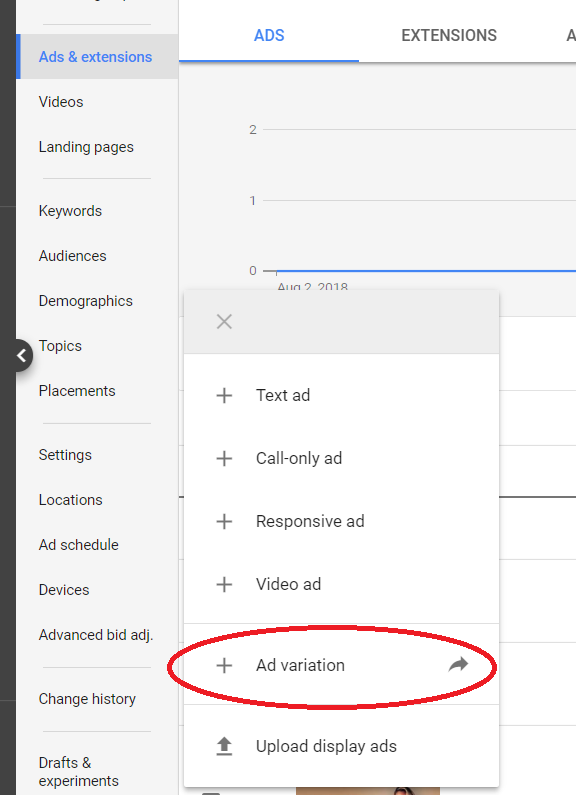 How to find this feature: You can either create these ads from the 'Ads' screen by clicking the '+' sign and choosing 'Ad Variation' or by clicking: 'Drafts & Experiences' → 'Ad Variations.' Here's Google's set up an ad variation guide: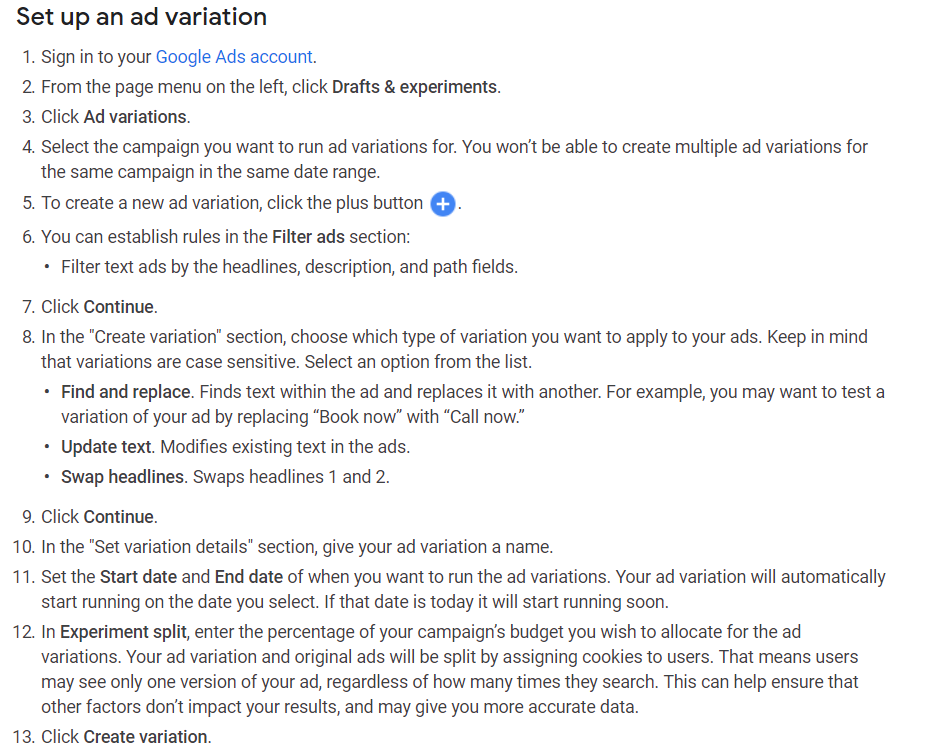 3. Optimize Ads With Google Ads' Powerful Audience Insights
Demographic insights on steroids, Audience Insights is a powerful data-gathering tool. In short, it gives advertisers quicker access to the web visitor, CRM list and conversion data they need to find new, relevant audiences, build better-performing remarketing lists, optimize their Google Ads marketing for conversions, and drive more potential shoppers to their store.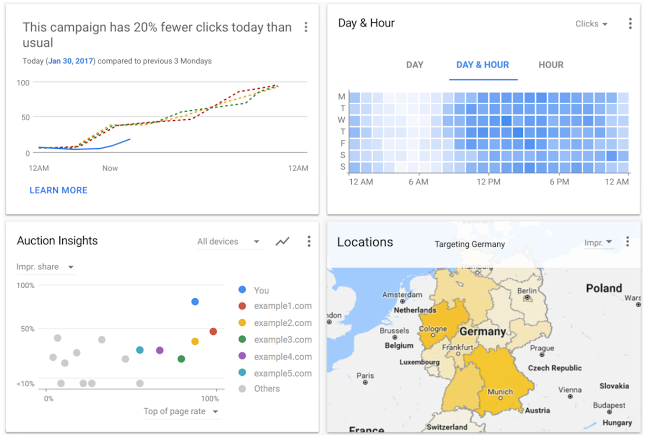 Bonus Content: 5 Reasons Your Traffic Is Increasing But Not Your Conversions
How to find this feature: click 'Tools' → 'Shared library' → 'Audience manager' and then access 'Audience Insights' on the left panel.
4. Make More Sales With In-Market Audiences for Search Ads
Another must-use Google Ads experience feature is In-Market Audiences for search ads. Why? Because it adds another level of targeting, which will help you convert more of your store's traffic by driving more targeted traffic to your store.
How to find this feature: click 'Audiences' → 'Observation' → 'In-Market Audiences.' Here are some In-Market Audience tips to get you started:
Combine In-Market audiences with other demographics and audience targeting to refine your targeting and ensure you're bringing highly-targeted traffic to your store.  

Start small. Instead of diving head-first into the new feature, test it for your market by choosing 'bid only' (by applying a +0% bid adjustment) and incorporating small bids while you test.

Don't just test one In-Market Audience that seems like the most likely fit. Try (test) them all to find the ones that yield the best results.
Another new feature we've been waiting for in Google Ads' dashboard, is graph notes. Very similar to what you were able to do in Google Analytics, Google Ads' new interface (AdWords Next) now enables users to add notes to their graphs.
How to find this feature: To add notes to your graphs, all you need to do is is follow these four simple steps:
Hover over your stats graph

Select (and then click) the date you want to add a note to

Click on the 'Add Note' that appears within the info bubble

Write the note you want
Much like Google Analytics, after adding a note you will see dots at the bottom of the graph which shows the dates where you've made notes. You can then hover over the dots to see the note for that specific date, or select 'See All Notes' top open all the notes you have on the side of the screen.


6. The New Google Ads Promotion Extension
A few months ago Google added an extension that was only available to advertisers that were already using AdWords Next; the 'Promotion Extension'. Which means with the recent update of all Google Ads users to the new Google experience, this handy extension is now available to all advertisers.
How to find this feature: Remember those keyboard shortcuts we talked about? By simply clicking on 'g' and then 'x' you will be taken directly to the 'Extensions' section of your account.
Promotion Extensions can be used for special promotions, and when used correctly can boost sales. Find out how to use this and other top extensions in our 5 Best Practices for Google Ad Extensions that You May Have Forgotten post.
Side Note: Updated Google Ad Experience Features
It's not just brand-new features you need to look out for since the Google Ads dashboard update, but some updates and changes to old features. The three main adjustments to take note of are: 'Bid-Only' is now called 'Observation,' household income targeting is now within the demographics tab, and 'Dimensions' are now referred to as 'predefined reports.'
Here's a breakdown of all the changes that Google Ads' new dashboard incorporates: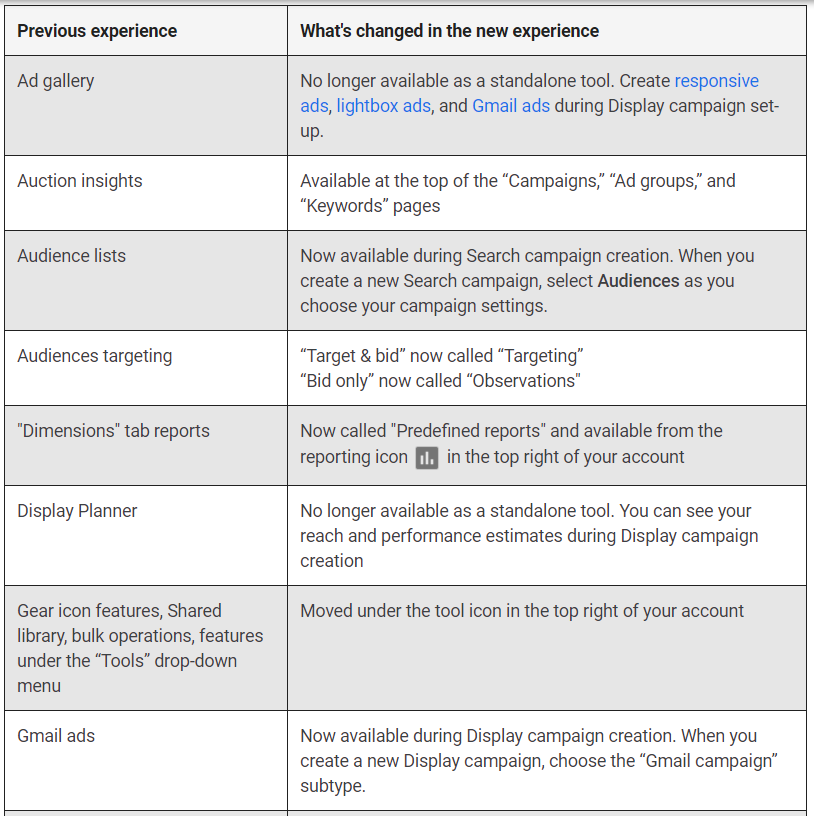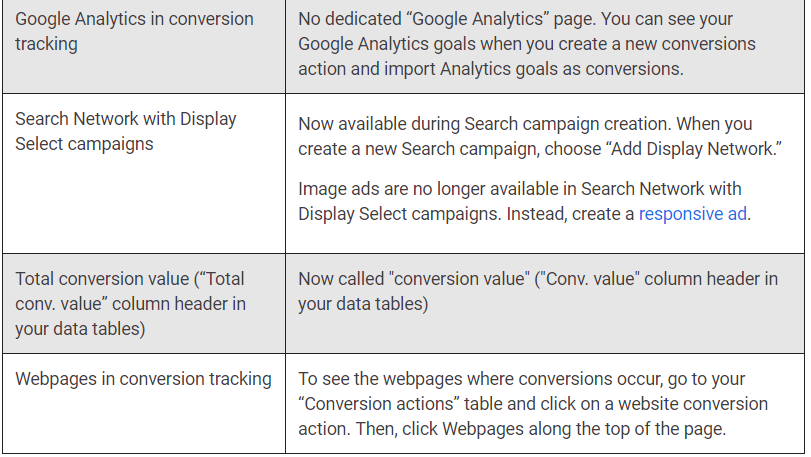 —
We hope this helps you navigate Google Ads' new interface to more sales. If you have any questions about Google Ads experience features, drop them in the comments below and we'll help you out.
Bonus Content: Leading Traffic Experts Reveal Their No.1 Traffic-Driving Tips
Happy Google marketing!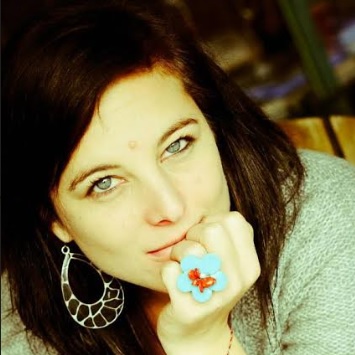 Nicole Blanckenberg
Nicole is a content writer at StoreYa with over sixteen years experience and flair for storytelling. She runs on a healthy dose of caffeine and enthusiasm. When she's not researching the next content trend or creating informative small business content, she's an avid beachgoer, coffee shop junkie and hangs out on LinkedIn.
Comments
comments
Powered by Facebook Comments