Get ready for a big dose of eCommerce marketing inspiration! 
When it comes to eCommerce marketing, PPC is king. But it's not enough to just throw budgets at PPC campaigns and cross your fingers for sales success – you need a solid PPC management and optimization plan and robust marketing strategy at the foundation. 
As crucial as pay-per-click marketing is to ensuring online sellers not only reach their ideal potential shoppers but send them to their store, so many eCommerce entrepreneurs fall short with their campaign strategies. This is where we come in!  
In this post, we will take you through everything you need to win at PPC management, whether you're starting your online store or are an experienced online seller looking to boost sales for your spend. We also include tips and strategies to help you one-up your biggest competitors without exceeding your budget. 
What Are the Top eCommerce PPC Platforms? 
The first thing to consider on your journey to pro-level PPC management is which PPC platforms you're using and/or which ones you should be using. The important thing to consider when testing and choosing platforms is who your target audience is and what you're selling. 
When it comes to winning at eCommerce marketing and sales, here are the top PPC platforms every entrepreneur needs in their marketing arsenal to succeed. We've included some benefits for each platform, what kinds of sellers should be using each and their top campaign types. 
1. Google Ads 
Google Ads is the leading PPC platform amongst online sellers and it is no surprise why. Exceeding $136 billion in revenue at the end of last year, with as much as $116 billion of that coming from advertising alone, it's the most prominent PPC platform. The leading PPC campaigns Google offers eCommerce sellers include: 
Dominating the global search engine market – with 90% of all web searches done using Google – there is no doubt that Google is a must-use PPC platform. The trick, though, lies in the optimization and tweaking of your Google campaigns to ensure you're getting the right ROIs for your business; and if you can do that automatically, even better. But we will get to that later! 
2. Facebook and Instagram Ads 
Coming in at a close second is Facebook's advertising platform. With over 2.32 billion monthly active users and 78% of marketers reporting that they get the best ROIs from Facebook and Google PPC campaigns, Facebook is a powerful part of an eCommerce marketing tool kit. 
The leading PPC campaigns Facebook offers eCommerce sellers include: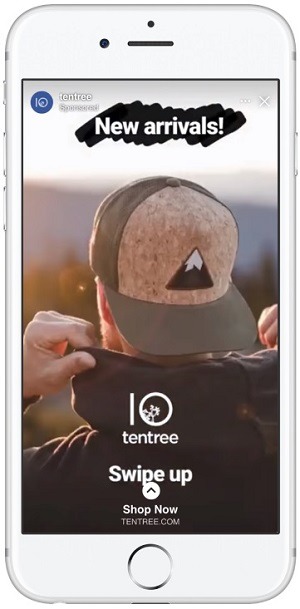 Again, like with any PPC platform, you need to make sure you're not only choosing the right campaign types for your brand but making use of optimization tools such as ad exclusions, CTA optimization, Lifetime Value Lookalike and other Facebook audiences, and split testing. You can read more about improving Facebook PPC campaign performance here. 
3. Amazon Ads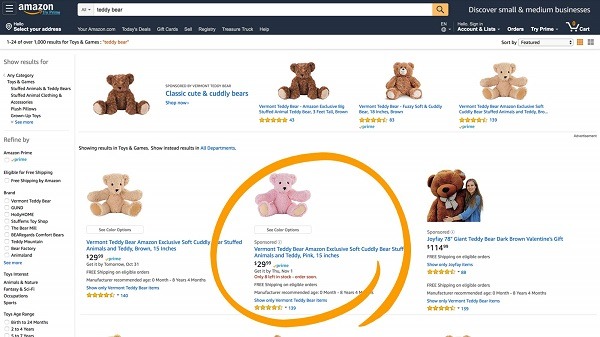 A relative newcomer in terms of being a full-service PPC platform is Amazon Ads. Although this platform is best suited for those eCommerce brands selling across a variety of channels including Amazon, they are currently the third most popular PPC platform.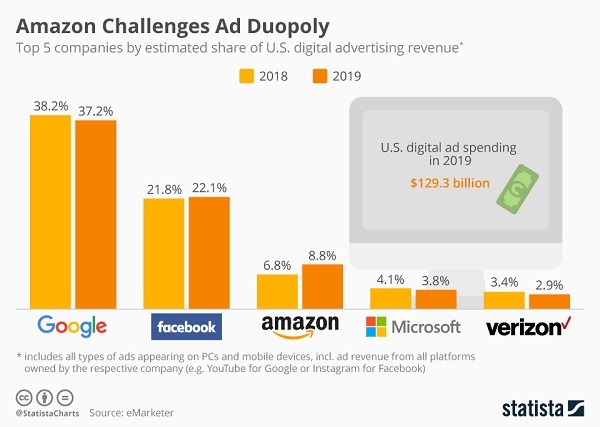 Considering a whopping 80 million Americans are Amazon Prime members, it shouldn't be a big surprise. Here are four PPC campaign types Amazon offers eCommerce advertisers: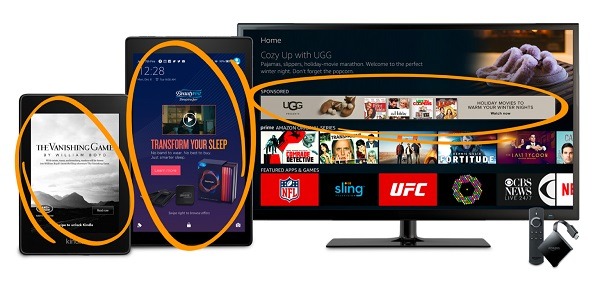 4. Microsoft (Bing) Ads 
Formerly known as Bing Ads, Microsoft Ads is a growing desktop search platform that currently covers 11.2 billion monthly searches around the globe that Google doesn't reach. With eCommerce SEM (search engine marketing) ads on this platform, your ads will appear in Bing, MSN search results and select partner sites. 

Some of their campaigns and PPC tools include: 
5. LinkedIn
Another PPC platform owned by Microsoft is LinkedIn. Although it has around 500 million users, it is best suited for eCommerce entrepreneurs who sell B2B digital and physical products. 
But we would caution sellers to think clearly about their market and goals before putting budget into this platform. Instead, we recommend LinkedIn for bigger B2B sellers (or B2C, if their target audience is professionals) who have an active blog that they want to send traffic to; also, don't forget the power of video. Here are the types of PPC campaigns LinkedIn offers: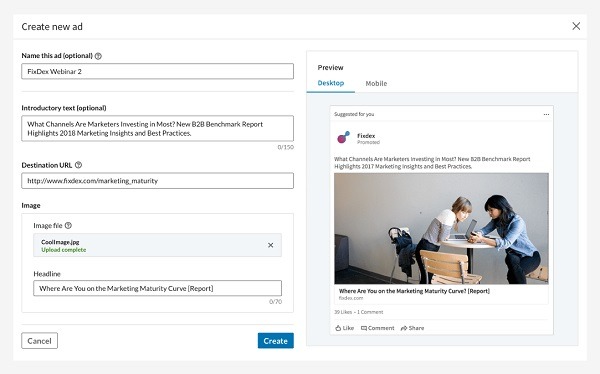 Pro Tip: If you're looking to diversify even further and test other platforms, here are two more social PPC platforms you can try: 
Twitter Ads

– if your primary target market is aged 35-65, 60%+ of whom are men

Pinterest Ads

– if you want to tap into

83% of US women aged 25-54
Now that you have a good idea of what types of PPC platforms and campaigns are available to you, let's look at how you can set up your PPC strategy to lay a good foundation for PPC management. 
Getting Started With Your eCommerce PPC Strategy 
Step #1: Define Your Goals Based on Real Data 
The very first thing you should be doing to set yourself up for PPC management success is using your current data (established sellers) or market research (new sellers) to set a clear goal for your marketing. In short, if you want to know you're on the right path, you need to pre-determine where you are going. This will help you balance your expectations with your ROIs. 
To lay the foundation for successful PPC campaigns, first choose your key metrics, which will help you determine your goal as well as serve as the benchmark for your PPC management success. Here are some top eCommerce metrics to consider: 
CPA (Cost Per Acquisition/Conversion)

CPC (Cost Per Click)

CVR (Conversion Rate) 

IS (Impression Share)

CTR (Click Through Rate) 

LTV (Customer Lifetime Value)

ROI (Return on Investment) 

Product Margins 

AOV (Average Order Value)
Choosing the best KPIs to monitor for Google and other PPC platforms and campaign success moving forward will depend on your overall goal. Let's say your overall goal is to increase sales by $50,000 in the coming quarter. You can reverse-engineer that goal by taking your LTV or AOV to determine how many new customers you would need to reach this goal. Let's say you have an AOV of $100; your goal would be to gain 500 new customers in the coming quarter. 
 You would, therefore, plan your strategy as follows: 
Set up an awareness-driving campaign to target new potential shoppers based on demographic and interest data from existing customers 

Push remarketing campaigns to retarget store traffic that hasn't converted yet 
Step #2:
Choose Your PPC Platform and Campaign Strategy 
Once you know where you want to go, you need to decide how you're going to get there. Therefore, the second step of laying a good foundation for PPC management and optimization success is choosing your leading PPC platforms and campaigns within. Here are three strategies based on your eCommerce business stage. 
Beginner PPC Platform and Campaign Strategy 
If you have a new store, the first thing you need to do is generate traffic. Yes, DIY SEO strategies are an essential aspect of your to-do list, but those will be long-term results. What you need is instant, highly-targeted traffic that you can then convert, remarket to convert or introduce into your sales funnel to target across a variety of channels including email. To do this, you will want to focus on three main PPC platforms – Google, Facebook and Instagram – and include the following campaigns:
Google Shopping campaigns

Google Search campaigns 

Google Remarketing campaigns

Facebook Dynamic Product Ads

Facebook and Instagram image and video posts 

Facebook and Instagram Carousel Ads 

Instagram Shoppable Collection Ads 
Intermediate PPC Platform and Campaign Strategy
Once you have generated enough traffic from your awareness and remarketing campaigns, it's time to upgrade your strategy. Here, you may want to add the following PPC platforms and campaigns to your strategy: 
Google Dynamic Search Ads (DSAs)

Google Gallery Ads 

YouTube Ads 

Google Display Network 

Facebook Collection Ads for eCommerce

Facebook Messenger Ads

Facebook Instant Experience Ads

Facebook Lead Ads 

Facebook Offer Ads

Facebook Domain Ads
The idea here, is to test all campaigns available across platforms to find a strong cross-platform strategy that feeds you traffic and hooks all potential shoppers at various stages in your funnel. This Google and Facebook expert strategy is a great place to start. 
Expert PPC Platform and Campaign Strategy 
Now that you're generating traffic and sales, it's time to look at your data and add additional PPC platforms relevant to your target audience. This means adding LinkedIn ads – should you be selling to professionals and have a well-established high-value blog, or testing other social platforms like Twitter or Pinterest – if your target audience aligns with them. Or, you could look at adding other selling channels to increase reach and sales, by listing and marketing with Amazon Ads. Here are some top Shopify Plus store examples to get the creative marketing juices flowing. 
Step #3: Set Yourself Up for Quality Data Tracking 
Now that you know where you want to go and how you're going to get there, you need to be sure you can track your campaign progress. In other words, set up PPC management to optimize for campaign success. To do this, you want to ensure you set up eCommerce tracking within Analytics.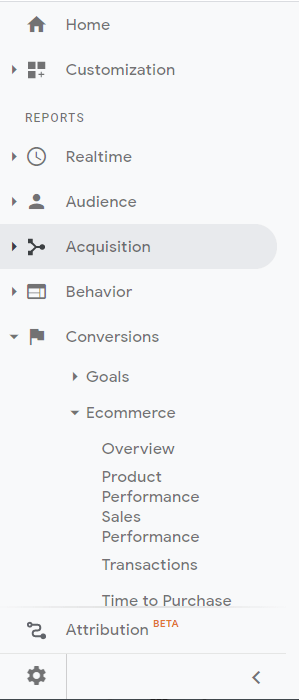 Here are four ways you can use these analytics to set up for success, depending on the stage your eCommerce business is at: 
1. Pre-Launch: Just because you haven't launched your online store yet, doesn't mean Google Analytics doesn't have a role to play. You can use 'coming soon' campaign data at this stage to gain insights into possible targeting and product problems before you launch, and fix accordingly. It also ensures you are gathering valuable data ASAP that can be used for your launch strategies. 
2. Launch: Once you have launched your online store, you can start looking at session and bounce rates, assess which product pages are generating the most traffic, and optimize pages where bounce rates are poor. This can point to technical issues on your site, copy optimization needs, and problems with your ad targeting before you invest too much into low-ROI PPC campaigns. 
3. Initial Growth: This stage refers to those online stores now making up to ten sales a week. This is where your transactional data plays a key role in your PPC management success. Top analytics such as best-selling products, number of transactions, average order value, and total revenue can all point to whether you're meeting or moving towards your ultimate business goal with your PPC strategy. 
4. Constant Growth: The final stage is setting yourself up for consistent, long-term growth. Here, you would want to track things like product views, cart abandonment, checkout and transaction sessions, marketing channel performance, popular products, and more. 
You can read about this in full detail in our Complete Beginner's Guide to Google Analytics for eCommerce. 
But determining your goals and laying the foundation with a strong PPC and data tracking foundation strategy is only half the work. The next thing you will need to conquer is PPC optimization and strategy management, so ensure you constantly keep an eye on your progress and tweak your campaigns and platforms in real-time. 
Top PPC Optimization and Management Tips and Strategies for Online Sellers 
Here are our top eCommerce PPC optimization and management tips and strategies to help you upgrade your PPC management to pro level. 
1. Get Creative and Brand-Specific With PPC Platform Structures 
The thing is, PPC management and success aren't one-size-fits-all activities and you don't want to blindly follow advice without first testing campaigns to ensure they work for your brand and market. Remember: each platform's goal is to make revenue, while yours is to get the best results for the budget you have. Additionally, what works for one niche or group of shoppers may not work for others. 
To ensure you are able to be creative with your campaigns and test budgets, ultimately, you need to leave space to adapt structures to your brand. With every step of your PPC creation, management and optimization, you want to try various things, testing on small budgets, to find the right fit for your brand and potential shoppers. 
2. Go Broad and Highly Specific With Your Keywords [Search] 
Keyword research and strategy is the key – if you'll excuse the pun – to your Search PPC management. What you want is a balance of both broad and very specific keywords. Why? Because broad, more competitive keywords are not only expensive but can result in less targeted traffic that is just browsing brands, topics or pricing. While your more drilled-down long-tail and specific keywords are typically cheaper and have less competition. 
You need broad keywords with high-volume potential for awareness and reach, and more specific keywords that may have less volume but target potential shoppers who are searching for exactly what you're selling. In a nutshell, broad keywords = higher reach; drilled-down long-tail keywords = less volume but higher conversion rates for cheaper. 
Newbie Tip: New to keyword research? These PPC keyword guides will help! 
To up your keyword game for PPC optimization, you should be accessing your Search Query Report from your Google Ads dashboard regularly. Here, you can see keyword details for each campaign and which queries are triggering your ads, which in turn help you find long-tail keywords you hadn't thought of yet and add them to relevant campaign groups.  
Pro Tip: You may also want to take a look at the keywords your most significant (or closest) competitors are using, and test them with small budgets. This can be especially fruitful with your remarketing campaigns, as searchers will already be familiar with your brand when faced with choosing between your brand and a competitor. But remember, you don't want to use competitors' branded keywords; these will result in less-targeted traffic, drive CPC higher and your overall quality scores will suffer. 
3. Commit to Constant Measuring, Tweaking & Optimizing to Boost Results 
No matter what PPC platform or campaign you're marketing with, you need to remember that for long-term success, you need a long-term strategy of continuously measuring, tweaking and optimizing your campaigns to keep them thriving. This means you should be: 
Keeping a close eye on your metrics 

Continually

reviewing keywords and testing new options 

Split-testing ad variations, landing pages, headlines and CTAs 
Newbie Tip: Not using Google's drafts and experiments yet? This feature allows you to experiment with slight changes to campaigns or test new ads before throwing huge money at them. Here's a how-to guide from Google to show you how this feature works: 
Day-to-day, week-to-week and month-to-month monitoring and PPC management can feel like a full-time job, but it's vital to the success of your campaigns. To make your life easier, we've created a PPC Task Checklist so that you stay on top of your daily, weekly and monthly optimization tasks.
4. Be Transparent, Relevant and On-Point With All Ads 
Another important tactic that can be applied to all your PPC ads is making sure you're staying relevant in your ad text, images, pricing, etc. and your store URLs and campaign keywords. The idea is not to click-bait your way to more traffic, because that's just going to lead to meagerly qualified traffic. Not only that, but it will give your brand a bad name while also ruining your credibility with PPC platforms – which in turn can also make your ads more expensive. To improve ad relevance: 
Include your main keywords in your ad text as well 

Closely link your landing page to what your ad promises searchers will see 

Keep campaigns and targeting very segmented so that your messaging is highly specific to who you're targeting 
5. Stay On Top of Trends and Upcoming Seasons & Be Ready to Adapt 
When it comes to PPC management, you want to stay up-to-date with best-selling product trends and seasonal shifts, and adjust accordingly. Seasonality is a very important aspect of your long-term strategy, including different campaigns for different times of the year. You want to not only edit your campaign text but create season-specific ads. A good example of this is having ads focused on the coming of winter to sell your winter coats or changing the text of your best-selling search ads to show how that product makes a good Christmas gift.  
In short, you shouldn't just plan ahead for significant seasonal events such as Black Friday, Cyber Monday, Valentine's Day, Mother's Day, Christmas and/or Halloween, but also seasonal times for products (winter or summer leggings, for example). Additionally, you really want to be keeping a close eye on current trends and viral products, and be ready to adapt and capitalize on them.
6. Know When to Loosen the Budget Strings 
Yes, you have a budget you want to stick to. You also want to get as many sales for that budget as you can. However, being too tight-fisted with ad spend can also be detrimental to your conversion potential. When it comes to PPC management, your budget needs to be a balancing act: adaptable to your business, campaign and general market needs. 
For example, during those peak seasonal shopping times we mentioned above, there will be more competition, which means you will need to invest more spend into these ads. Or, after testing smaller budgets for Facebook ads, you may want to invest more spend into high-performing PPC campaigns. However, you can plan to be budget-flexible by putting aside extra budget for the busier times. 
Pro Tip: But remember, there is a right and a wrong way to scale your Facebook ads. Here's leading Facebook advertising expert Ben Malol's Facebook strategy workshop, where he takes us through his secrets to successfully scaling campaigns to maintain a good return on investment, when and how to adjust bids, and mastering CPAs.
7. Take the Work Out of PPC Optimization With the Right PPC Management Tools 
As you can see, eCommerce PPC management is complex, yet necessary to ensuring you are constantly growing your business and sales. However, as your business grows, so will the number of products, the campaigns you need to run and the PPC platforms you use, plus the optimization time you will need. This can become an odious chore, especially in the busy season. When this time comes, it will become imperative to your success that you invest in assistance, which can be in the form of hiring your own PPC management team in-house or an agency – both of which can be effective, but expensive; or, you can invest in a good PPC management tool like Traffic Booster from as little as $120 per month, including your campaign budget. 
Conclusion 
PPC management and optimization is the most critical part of an eCommerce marketing strategy. It will not only ensure you are reaching the potential shoppers you want, but help you get more targeted, quality traffic for your spend – quality traffic that will increase your eCommerce conversion chances. To further help you navigate your PPC management and ensure you get the most out of your campaigns and strategies, here are some of our top platform-specific PPC management and optimization guides.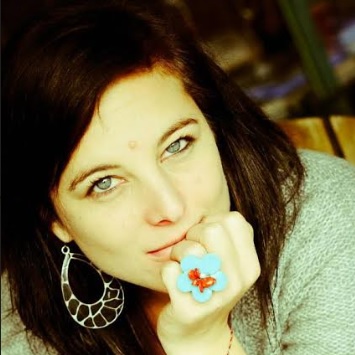 Nicole Blanckenberg
Nicole is a content writer at StoreYa with over sixteen years experience and flair for storytelling. She runs on a healthy dose of caffeine and enthusiasm. When she's not researching the next content trend or creating informative small business content, she's an avid beachgoer, coffee shop junkie and hangs out on LinkedIn.
Comments
comments
Powered by Facebook Comments