So, you have decided to start your own online clothing store. It's no surprise why: with online clothing stores being an $80 billion-a-year industry, it's by far one of the most popular eCommerce niches.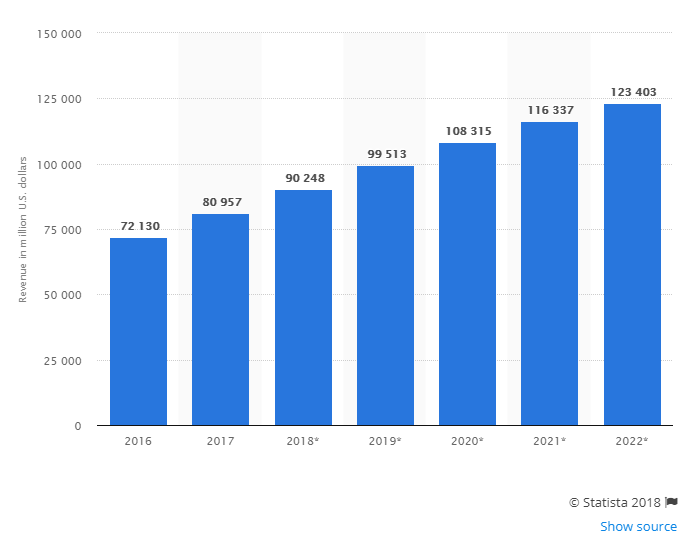 However, starting a successful online clothing store is more than just buying a domain and placing an ad. A successful store is dependent on the niche you choose, the branding you create, and the quality – not only of your clothing products but your site – the customer service you provide and fulfillment strategies.
Just because a niche is popular doesn't mean you have instant access to potential customers. In fact, the opposite is true. With increasing popularity comes increasing popularity and the pressure to differentiate your store from the millions of others already online.
If you're new to the eCommerce game or looking to add clothing and apparel niches to your growing business portfolio, then this post is for you! In this guide we will take you through the steps you need to take to start a successful online clothing business.  
Step 1: Choose Your Online Clothing Store Niche
Before you can choose your products, you need to decide which clothing and apparel niche you want to sell in. Choosing your niche ensures you choose products and create your whole business plan around the type of potential shoppers you are appealing to and ultimately ensures you are able to position your store in a unique way.
The trick is to be very specific and to really drill down your niche, as this will enable you to identify and market to your potential shopper more easily. This will also help you develop your product list to appeal to your specific target market, allowing you to limit your competition and increase your chances of customer loyalty long term.
An awesome example of this is the online apparel store, HUMAN. Their niche? Pop culture. How do they cater to it? By using bold humor: unique expression that appeals to what they call 'pop culture nerds.' And what appeals to potential shoppers in this niche? Not fancy chiffon skirts or name brand shoes, but with tees, hoodies and socks.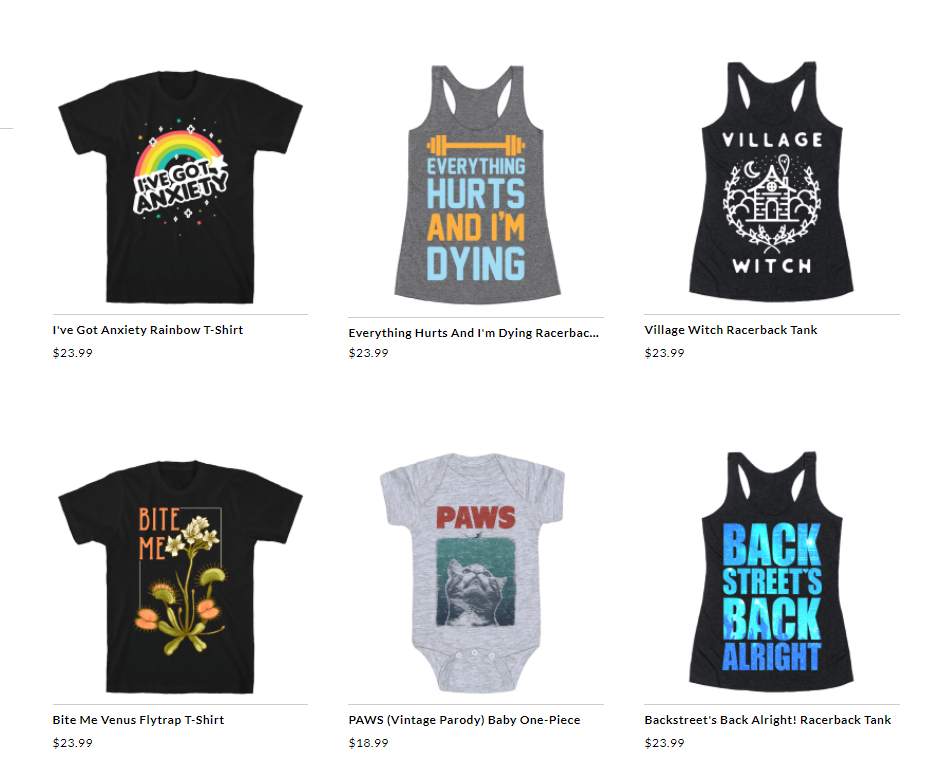 Their site has so much awesome going on, but it's their slogan that sums up their niche perfectly: "Dress Yourself To Express Yourself."
So how do you choose your niche? Here are the four most important considerations when choosing your niche:
Be as unique as possible to stand out from the crowd

Choose a niche that interests you and that you're passionate about

Ask yourself whether you can add value and/or position yourself as an authority

Make sure the niche has earning potential
Step 2: Choose Your Online Clothing Store Products
Once you have a niche, it's time to choose your products. Will you be selling short-sleeve shirts or dresses? The clothing and apparel market is almost infinite, and you can be sure there are a bunch of options within the niche you're selling in.
However, if you're tempted to jump in and sell everything, this could be your undoing before you've even started. When you're starting an online store it's always advised to start off small and slow and then branch out your lines as you grow. A great example of this is one of our top merchants, Mrs Bow Tie.  
Mrs Bow Tie made a name for themselves selling bow ties that were uniquely 'Made in Britain.' Their success with just one product line was so big that within three years they have added neckties, pocket squares, cummerbunds, suspenders and cufflinks to their product lists and sold to over 300,000 customers.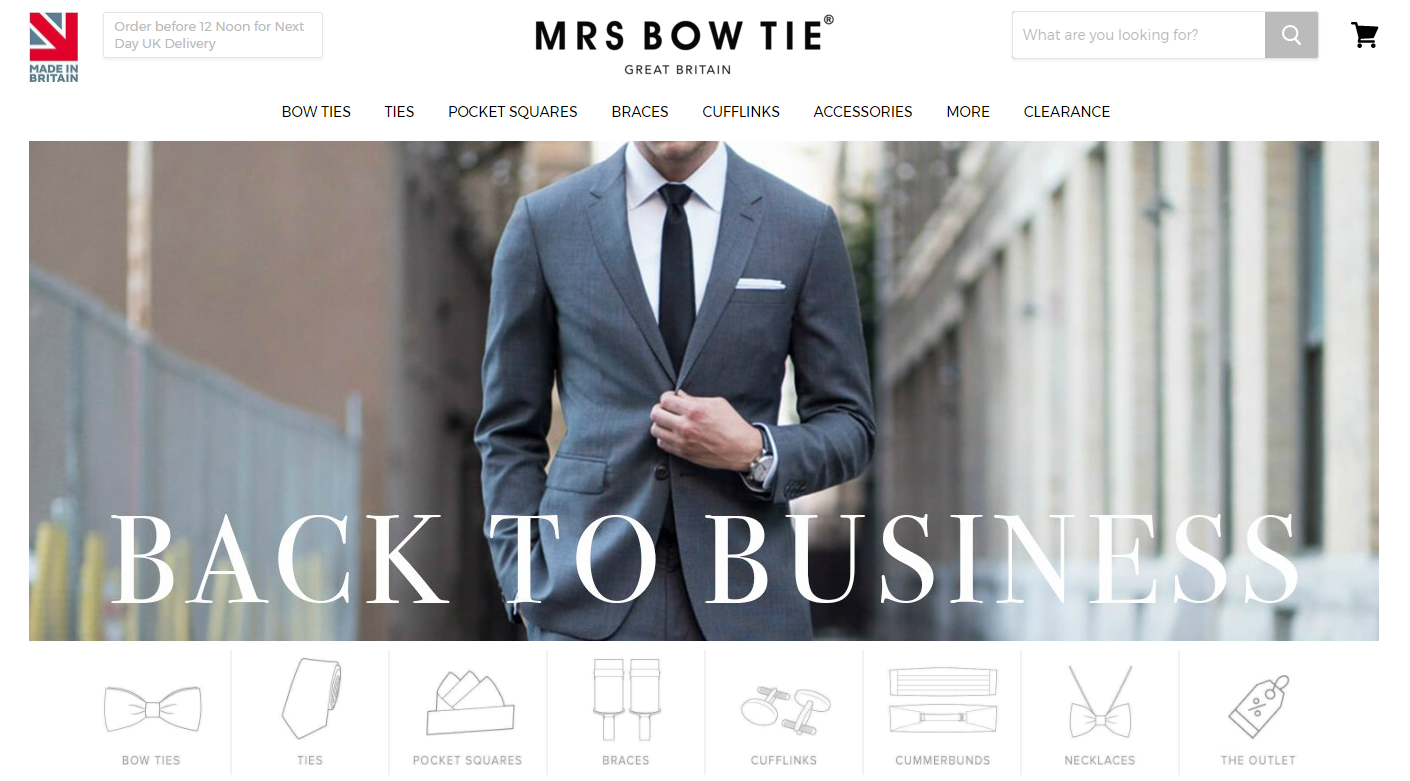 Say you have decided to open an online clothing store aimed at the yoga fitness niche. Instead of putting a variety of products on your proposed list, isolate the must-have products you can launch with. Each kind of product, whether it's a hoodie or a pair of socks, has a wide potential of building your new clothing brand.
What should you consider when choosing your products? Here are our top three tips!
1. Start Small
As Mrs Bow Tie did, start small and simple as you get your product list off the ground. Adding too many products upfront will not only add extra admin costs every step of the way – from product photo shoots to web setup – but it can add complications when you first launch. Complications can affect the service you give, and as a new store in a very competitive market, customer service, or the lack thereof, can make or break your business.
2. Think Ahead
As we know, fashion and clothing fads are ever-changing. Choose stable products at first that can be easily changed to suit the changing styles, such as bow ties or t-shirts as shown above. If you do decide to go more mainstream fashion, plan for the changing styles by creating a store that adapts, such as dropshipping orders, which will ensure you're not stuck with unsellable stock. Ultimately in the clothing game there will always be shifts, so success will depend on your ability to always think ahead and be innovative and creative in dealing with the changes.
3. Set Your Focus
Yes, be as specific and narrow as you can at the beginning, but have an eye on the end goal. Think about where you see your online clothing brand extending in the future, and make sure that you're focusing on the end goal. This will ensure that, as you add products to your range or line and grow your store in your niche, you will be able to implement new or trending products onto your store more seamlessly.
Step 3: Choose Your Online Clothing Store Business Model
Now that you know your niche and have an idea of the types of products you want to sell, it's time to pick a business model for your online clothing store business. There are four types of business models that online clothing and apparel stores fall into: print-on-demand, custom cut-and-sew, private label clothing line and dropshipping. Each business model has their own pros and cons and choosing between them should be based on your overall objective, your budget and your skills.
Let's look at each of them more closely.
Print-on-Demand Clothing Store Business Model
Best for those of you who want to launch as quickly as possible for as cheap as possible.
Print-on-demand is the easiest type of online clothing business model as well as the cheapest. These are the types of stores where you print your logo and design onto blank apparel, and everything is automated. There is enough variety in types and colors within this business type and it's your most cost-effective option when dealing with small amounts of orders.
The biggest drawback, however, of going this direction is that these types of stores generally have lower profit margins and offer few options in the way of branding tags, labels and other finishes.
One of the most popular print-on-demand tools is Printful. Here's how Printful works:
Custom Cut-and-Sew Clothing Store Business Model
Best for those of you who want to launch their very own clothing brand and design.
This type of online clothing store business model is for those of you who want to build your own clothing line from scratch. Meaning, you do everything from designing your clothing to manufacturing and fulfillment – yourself.
The biggest advantage here is that you are selling something very unique and you can customize as you see fit. However, custom cut-and-sew businesses come with a lot of management as you will be responsible for finding and coordinating your own pattern-makers and manufacturers and sourcing your own fabric, etc. This means a lot of upfront budget and time needed to launch your first line.
Pro Tip
Looking for pattern-makers? Here are three vetted suppliers to get you started.
Private Label Clothing Store Business Model
Private label business models are essentially the middle point between print-on-demand and cut-and-sew. They provide more customization than the former, but less 'work' and needed budget than the latter.
This kind of model is when you buy blank, or label-less clothing items, and then add your custom design, label or tag before selling them in your store. This can prove to be a lot more cost effective than print-on-demand as you can negotiate better rates for bulk buying. Unfortunately there are some drawbacks, such as having to deal with fulfillment and inventory management yourself.  
There are, however, platforms that will help you streamline the process, such as Threadbird, where you can buy and custom-finish your apparel and clothing.
They also offer fulfillment services for those of you who prefer to hold your own stock.
Dropshipping Clothing Store Business Model
Similar to print-on-demand, dropshipping clothing stores allow you to sell clothing that is fulfilled from wholesalers. This is a cost-effective route as you don't have to deal with buying stock up front, storing, packing or shipping. The disadvantage is that your products won't be as unique and there could be a variety of stores selling the same products as you.
However it can be pretty easy to sent up. With apps such as Orbelo, you can find and coordinate a lot of suppliers and integrate them into your online store.

Step 4: Outline Your Online Clothing Store Business Plan
You have your niche, products and business model; it's time to outline your business plan.
Outline your market by drilling down your potential shoppers into segmented markets

Outline your products by deciding what makes them unique

Outline your competition by listing your top competitors

Outline your business model/fulfillment strategies

Outline your brand/company description: how you want your target market to view your brand
When it comes to eCommerce strategy you want to make sure you're answering questions such as where your traffic (potential shoppers) will be coming from and what will make your products appeal to that traffic.
Additionally, and very importantly, part of your business plan should also include your pricing. Budget the price per product with these important considerations:
Cost of equipment, web development, hosting, etc.

Cost of design and development

Cost of production per product, including that of samples

Cost of labor and transportation

Cost of materials
Once you know the cost you are then able to work out your margins, where you're looking for a margin of around 30-50% if using cut-and-sew models. However, at this stage you should also be looking at your biggest competition for pricing, ensuring you are not pricing yourself right out of the market.
Step 5: Creating Your Online Clothing Store
Now comes the fun part: creating your online store. The first thing you will need is your domain. We always advise buying this separately upfront as soon as you have your main idea. You want to make sure that the domain is still available after you have designed your range and built your site. For this, we would recommend namecheap.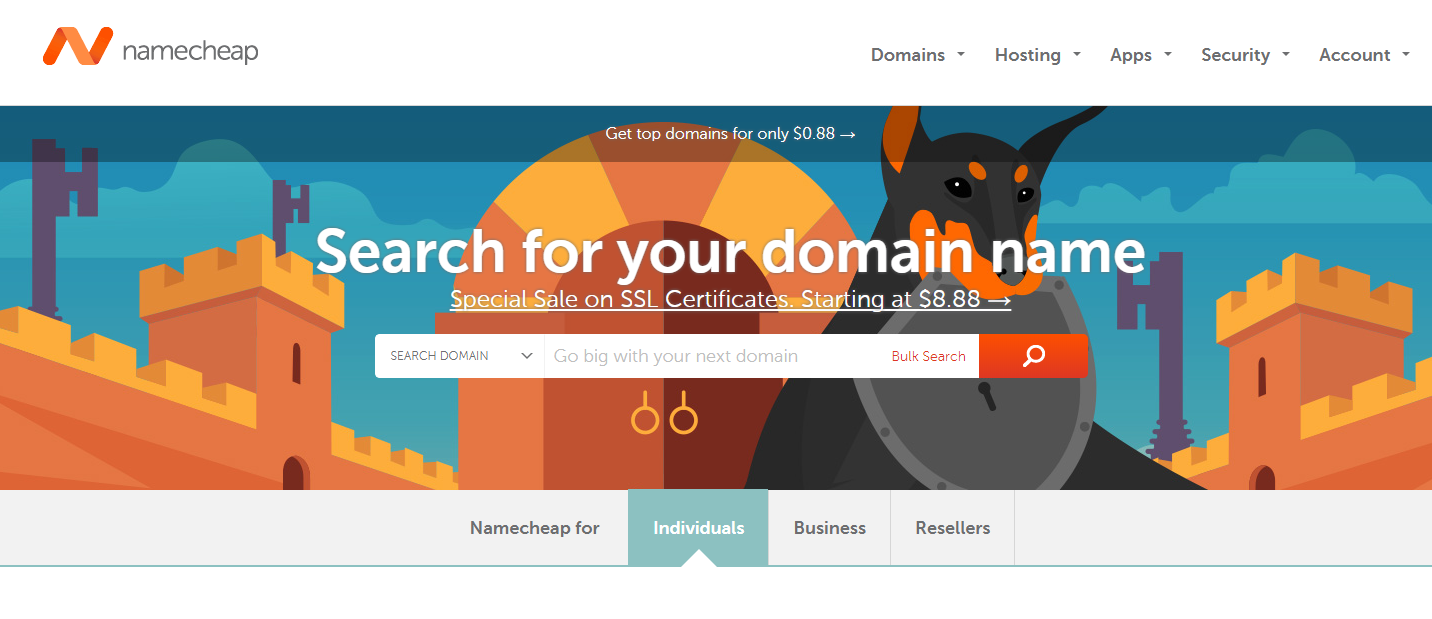 Alternatively, you can buy your domain directly through eCommerce platforms such as Shopify or WordPress.
Next you will want to choose your platform and then your theme (or vise versa). This is one of the most important decisions you will make when creating your store. Why? Because your website, its design and user-friendliness, are as important as the products you are selling and shouldn't be rushed. If you don't have the budget to hire designers or the time to teach yourself WordPress.
Pro Tip
Another important part of setting up your store that deserves special mention is your product pages. Online shoppers only have product photos and pages by which to judge the quality and details of your products, so make sure that they are of good quality – even when you're dropshipping. Visit our How to Create Perfect Product Pages for Conversions post for more tips!
Step 6: Launching Your Online Clothing Store
Once your products are in place, your business plan is set up, your fulfillment is organized and your site is done, it's time to launch your online clothing store. Here are some launch tips to help you get started:
1. Define Your Launch Strategy
Are you going to run a promotion? Do a Facebook Live video? Use an existing email database to push teaser mailers? Whatever strategy you decide on, have it in place to roll out step by step as you launch.
2. Prepare Your Social Accounts
Before you launch your site, make sure your social account pages are set and ready. In fact, have these active – with content – before your big launch. This will enable you to run your social ads with the launch and market your new store to an already-growing following.
3. Have Your Email Marketing Strategy and Automation in Place
Make sure all your automation emails are set up and tested and that you have your email marketing strategy planned out for your first three months.  
Pro Tip
Install a well-designed popup so you're ready to collect email addresses, using discounts and coupons as incentives.
4. Make Sure Your Google Analytics and AdWords Accounts are Set Up
Next you will want to ensure that you have set up your Google AdWords and Analytics accounts before launching. This will enable you to track traffic to your store during your launch in real time and drive traffic through SERP ads.
Step 7: Bringing Traffic to Your Online Clothing Store
The last step? Bringing traffic to your newly launched online clothing store. The biggest traffic drivers are email marketing, PPC, content marketing, social media guest posts on popular blogs and influencers.
For a new store without a brand name, established SEO or email database list, you will want to concentrate on AdWords and Social Ads – particularly Facebook and Instagram – to get potential shoppers to your new store. With apps such as Traffic Booster, you can hand over the hard work, so to speak, so that you can concentrate on fulfilling your new orders. Check out our 8 Hacks to Boost Traffic & Sales Today post for more tips.
—
There you have it: how to start a successful online clothing business in 7 steps. If you've just launched a clothing store or have questions before launching, post them in the comments below!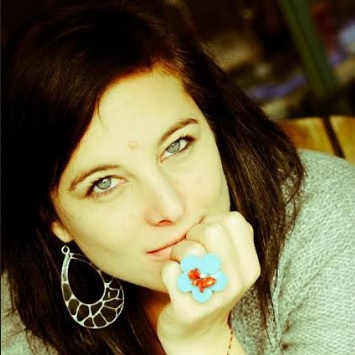 Nicole Blanckenberg
Nicole is a content writer at StoreYa with over sixteen years experience and flair for storytelling. She runs on a healthy dose of caffeine and enthusiasm. When she's not researching the next content trend or creating informative small business content, she's an avid beachgoer, coffee shop junkie and hangs out on LinkedIn.
Comments
comments
Powered by Facebook Comments